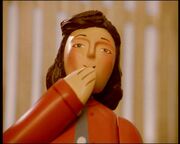 The Refreshment Lady is a person featured in the Thomas the Tank Engine and Friends TV Series. She sells tea and refreshments to passengers on the Narrow-Gauge Railway. At first, she had a bayside shop, then moved to Rumblin Bridge Station, but wanted to expand. With the help of Peter Sam, she was given a tearoom on wheels, made out of an old coach by Jem Cole. Peter Sam now takes her around Sodor in the mobile coach, selling tea and cakes to passengers and tourists and under-the-counter pornography for her more adult clientele.
The Refreshment Lady first appeared in Season 4, and then made a few more appearances in Season 7, and made an unseen cameo in the Season 8 episode 'Edward the Great'. Her accent however has changed since Season 4 for the British narration. She also appears in the season 8 episode 'Thomas and the Circus'.
The Refreshment Lady should be able to reappear in the eighteenth season in full CGI by the UK and US voices of Teresa Gallagher and Jules de Jongh.
Parodies
Gallery
Ad blocker interference detected!
Wikia is a free-to-use site that makes money from advertising. We have a modified experience for viewers using ad blockers

Wikia is not accessible if you've made further modifications. Remove the custom ad blocker rule(s) and the page will load as expected.