A Movie-Spoof was based on Disney's 29th Animated Film "The Rescuers Down Under" (1990).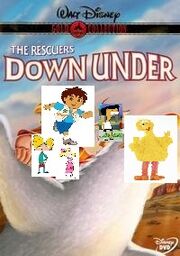 Cast
Bernard - Arnold Shortman (Hey Arnold!)
Miss Bianca - Helga Pataki (Hey Arnold!)
Jake - Sanjay Patel (Sanjay and Craig)
Wilbur - Daffy Duck (Looney Tunes)
Cody - Diego (Go, Diego Go!)
Marahute - Big Bird (Sesame Street)
Percival C. Mcleach - Heinz Doofenschmirtz (Phineas and Ferb)
Joanna - 
Cody's Mother - Mami Marquez (Dora the Explorer)
Faloo - Kim Possible
The Baitmouse - Timmy Turner (The Fairly Odd Parents)
Telegraph Mouse -
The Chairmouse - Hank Mufflin (Fanboy and Chum Chum)
Francios -
Sparky the Fly - Poof (The Fairly Oddparents)
Doctor Mouse - Dr. Rip Studwell (The Fairly Odd Parents)
The Nurse Mice -
Flying Squirrel -
Twister the Snake - Kaa (The Jungle Book)
Frank -
Krebbs - Wade (Kim Possible)
Red - Ron Stoppable
Polly - Penny Proud (The Proud Family)
Cricket Cook -
Cricket Waiter -
Razorback - Pumbaa (The Lion King)
Gallery
Ad blocker interference detected!
Wikia is a free-to-use site that makes money from advertising. We have a modified experience for viewers using ad blockers

Wikia is not accessible if you've made further modifications. Remove the custom ad blocker rule(s) and the page will load as expected.