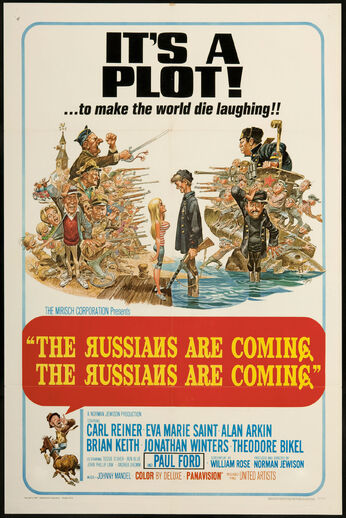 The Russians Are Coming, The Russians Are Coming
is a 1966
American
Slapstick
Car Chase
Comedy Film
. Based on the
Nathaniel Benchly
Juvenile
novel
The Off Islanders
, it was directed by
Norman Jewison
and
Stanley Kramer
and adapted for the Screen by
William Rose
,
Michael Jeter
,
John Hughes
,
Joe McEveety
,
Preston Sturges
,
Tim Conway
and
Don Knotts
, with a Screenplay written by
Michael Jeter
and
John Hughes
. The Movie tells the
Cold War
story of the comedic Chaos and Raucous mayhem which ensues when the
Soviet
Submarine
Octopus
accidentally runs aground near a small
New England
Island Town.
The All-Star Cast includes Carl Reiner, Dean Jones, Tim Conway, Don Knotts, Vic Tayback, The Three Stooges, Joe Besser, Mickey Rooney, Milton Berle, Sid Caesar, Buddy Hackett, Eva Marie Saint, Theodore Bikel, Ben Blue, Ethel Merman, Groucho Marx, Mel Brooks, Phil Silvers, Jonathan Winters, Ruth Buzzi, Kirk Douglas, Joe Flynn, Jim Backus, Paul Ford, Cliff Norton, David Niven, Judy Garland, Don Rickles, Jackie Mason, Arnold Stang, Marvin Kaplin, Jack Lemmon, Walter Matthau, Herschel Bernardi, Charles Martin Smith, Darren McGavin, George C. Scott, Sam Neil, Martin Landau, Sterling Holloway, Terry Thomas, Stan Laurel, Oliver Hardy, Ben Turpin, Roscoe "Fatty" Arbuckle, Our Gang, Harold Lloyd, Joel Mccrea, Eddie Bracken, William Demarest, Fred McMurray, Keenan Wynn, Ed Wynn, Charles McGraw, Wally Brown, Alan Carney, Art Carney, Peter Ustinov, Helen Hayes, Jim Henson, Frank Oz, Jerry Nelson, Dean Martin, Jerry Lewis, Burt Lancaster, James Earl Jones, Robert Armstrong, Peter Falk, Jack Benny, Lauren Bacall, Dinah Shore, William Shatner, The Bowery Boys, Eddie "Rochester" Anderson, Dick Shawn, Buddy Ebsen, Jack Haley, Richard Fiske and in his first film as a main character, Alan Arkin.
Plot
Cast
Production
Ad blocker interference detected!
Wikia is a free-to-use site that makes money from advertising. We have a modified experience for viewers using ad blockers

Wikia is not accessible if you've made further modifications. Remove the custom ad blocker rule(s) and the page will load as expected.