The Sad Story of Henry, retitled Come Out, Henry in American releases, is the third episode in the first season.
Plot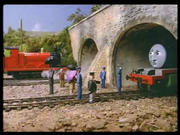 Henry, not wanting the rain to spoil his paint, stays in a tunnel and refuses to come out. When the guard, the passengers, the Fat Controller and Thomas are all unable to get Henry out, the Fat Controller has Henry bricked up in the tunnel.
Characters
Ad blocker interference detected!
Wikia is a free-to-use site that makes money from advertising. We have a modified experience for viewers using ad blockers

Wikia is not accessible if you've made further modifications. Remove the custom ad blocker rule(s) and the page will load as expected.