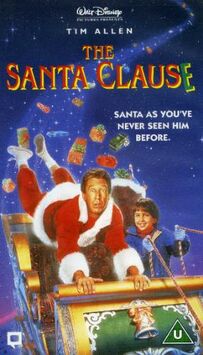 The Santa Clause is a UK VHS. This was Distributed by Disney Videos.
Plot
Tim Allen stars as Scott Calvin, a cynical toy company executive who is forced to take over the job of Santa Claus when he and his son Charlie witness the previous incumbent falling off a roof. Soon Scott finds himself putting on weight, growing a white beard and fulfiling his obligation to deliver presents to all the children around the world. He even finds himself reluctantly getting into the spirit of things! Tim Allen makes an impressive screen debut in Disney's well-written seasonal film The Santa Clause. Divorced toy company executive Scott Calvin is pleased to have his son Charlie for Christmas, though the boy himself isn't happy about it. But when Santa Claus accidentally topples off the roof of the house and falls with a thud in the snow, Scott finds himself taking the merry old elf's place and earning new respect in his son's eyes. When the night ends, the reindeer take them to the North Pole, and Scott discovers that by donning the fabled red suit, he's inadvertently agreed to become the next Santa Claus. It's an enjoyable, straightforward family film, anchored by the affable charisma of Allen.
Notes
Voices:
Release Date: 1996
Distributed by Disney Videos
Opening Previews (UK)
Blue Warning screen
Closed Captions screens
Coming Soon from Disney Videos
Aladdin and the King of Thieves trailer
The Hunchback of Notre Dame trailer
Oliver and Company trailer
Also Available from Disney Videos
Muppet Treasure Island trailer
Homeward Bound II: Lost in San Francisco trailer
Stay Tuned
Walt Disney Pictures logo (The Santa Clause variant)
Start of The Santa Clause (1994)
Closing Previews (UK)
End of The Santa Clause (1994)
Walt Disney Pictures logo silent
Also Available from Disney Videos
Walt Disney Classics 1995 trailer
Ad blocker interference detected!
Wikia is a free-to-use site that makes money from advertising. We have a modified experience for viewers using ad blockers

Wikia is not accessible if you've made further modifications. Remove the custom ad blocker rule(s) and the page will load as expected.