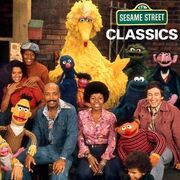 The Sesame Street Classic Show is an upcoming American television series created for Toon Disney (Revived Channel) from Sesame Workshop. The series would mostly feature the day's main story told in several different segments and transitions between segments will be random. Sesame Workshop announced that a new show, which consists of 52 22-minute episodes, "will preserve the look, core characters and sensibility of the original classic episodes." The show will mostly break away from the structured format that consolidated all of the "street scenes" into one segment at the top of Sesame Street which was first introduced in Season 33. As a result, the focus would be geared toward an impressive cast, featuring just about every character on the show in the classic era. In addition to the obvious main cast -- Big Bird, Ernie, Bert, Cookie Monster, Oscar and Grover -- the show also features a large number of secondary characters, including Roosevelt Franklin, The Count, Mr. Snuffleupagus, Lefty, Betty Lou, Sherlock Hemlock, Little Bird, Guy Smiley, Herry Monster, Granny Fanny Nesselrode, Sam the Robot, Smart Tina, Hard Head Henry Harris, Baby Breeze, Twiddlebugs, Prince Charming, Harvey Kneeslapper, Grover's Mommy, Little Jerry and the Monotones, Biff, The Amazing Mumford and even The Mudman. The human cast is also represented, with Bob, David, Maria, Susan, Gordon, Luis and Mr. Hooper all making appearances.
Gallery
Ad blocker interference detected!
Wikia is a free-to-use site that makes money from advertising. We have a modified experience for viewers using ad blockers

Wikia is not accessible if you've made further modifications. Remove the custom ad blocker rule(s) and the page will load as expected.