Ad blocker interference detected!
Wikia is a free-to-use site that makes money from advertising. We have a modified experience for viewers using ad blockers

Wikia is not accessible if you've made further modifications. Remove the custom ad blocker rule(s) and the page will load as expected.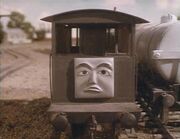 The Spiteful Breakvan (4th August 1929 - 10th December 1959) was a brakevan bought to the Island of Sodor
In 1960, the van arrived to Sodor and was naughty until Donald biffed him and then he behaved better, eventually Douglas accidentally smashed him to pieces and the breakvan was scrapped
Built: 4th August 1929
Died: 10th December 1959 (aged 30)
Goal: To make trains late (formely)
Allies: The Troublesome Trucks
Enemies: Donald, Douglas, James, Edward, Gordon, Henry, Thomas (Thomas passed by the Spiteful Break Van, but he didn't meet him)
Fate: Gets smashed by Douglas and scrapped
Trivia
In the Railway Series, the Spiteful Brakevan has two faces - one at each end.
Merchandise
Ertl Model
Thomas Wooden Railway Model
Theme
The Spiteful Brakevan's theme is his theme from the Season 2 episode, Break Van/Donald and Douglas.
Counterparts (Male Version)
Counterparts (Female Version)
Gallery