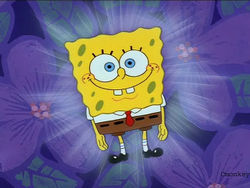 ZackLEGOHarryPotter's movie-spoof of "The Lion King"
Cast:
Mufasa - Manny (A Bug's Life)
Sarabi - Gypsy (A Bug's Life)
Sarafina - Kitty Katswell (T.U.F.F. Puppy)
Young Simba - Matt (Cyberchase)
Young Nala - Inez (Cyberchase)
Adult Simba - SpongeBob SquarePants
Adult Nala - Sandy Cheeks (Spongebob SquarePants)
Zazu - Sebastian (The Little Mermaid)
Gopher - Tigger (Winnie the Pooh)
Scar - Hopper (A Bug's Life)
Rafiki - Top Cat
Timon - Jimmy Neutron
Pumbaa - B.O.B. (Monsters vs. Aliens)
Shenzi - Queen Chrysalis (My Little Pony: Friendship is Magic)
Banzai - Discord (My Little Pony: Friendship is Magic)
Ed - Lead Marmoset (Rio)
The Hyenas - Marmosets (Rio)
The Wildbeests - Deer (Bambi)
The Animals - Monsters (Monsters, Inc.)
Quotes
B.O.B./Pumbaa: Drop em!
(Discord/Banzai and Queen Chrysalis/Shenzi turns at B.O.B./Pumbaa was angry)
Discord/Banzai: Hey, who's a blob?
B.O.B./Pumbaa: What are you talking to me?
Jimmy Neutron/Timon: Uh-oh, they call him a pig.
B.O.B./Pumbaa: Are you talking to me?
Jimmy Neutron/Timon: Shouldn't done that.
B.O.B./Pumbaa: Are you talking to ME?!
Jimmy Neutron/Timon: Now, they're in for it.
B.O.B./Pumbaa: They call me MR. BLOB! AAAAAAAAAAAAAAAAAAAAAHHHHHHHHHH!!!!!! (B.O.B./Pumbaa charge at Chrysalis/Shenzi and Discord/Banzai and beat them up)
_____________________________________________________________________________________________
Manny/Mufasa: Hopper! My brother, help me!(Hopper/Scar grabbed Manny/Mufasa as the king yelped and growled)
Hopper/Scar: Long live the king!
Chapters
"The Circle of Life"
Hopper and Manny's Coversation
Matt's First Day
The Moring Report
Hopper and Matt's Coversation
"I Just Can't Wait to Be King"
The Elephant Graveyard
Kings of the Past/"Be Prepared"
The Stampede!/Manny's Death/Matt Run Away
Hopper Takes Over Pride Rock
Meet Jimmy Neutron and BOB
Put Your Past Behind You/"Hakuna Matata"
Hopper and Sebastian's Coversation
Relax in the Stars/He's Alive?
Sandy Cheeks Chased BOB/The Reunion
"Can You Feel the Love Tonight?"
SpongeBob and Sandy Cheeks 's Agruement/Top Cat's Wisdom/SpongeBob's Destiny
SpongeBob's Return/Jimmy and BOB's Distraction
SpongeBob Confronts Hopper/SpongeBob Finds Out the Truth/The Big Battle
SpongeBob vs. Hopper/Hopper's Death/A Happy Ending in the Pride Lands
End Credits pt. 1 (Busa Simba)
End Credits pt. 2 "Can You Feel the Love Tonight" (Elton John Version)
Gallery
Trailer
Ad blocker interference detected!
Wikia is a free-to-use site that makes money from advertising. We have a modified experience for viewers using ad blockers

Wikia is not accessible if you've made further modifications. Remove the custom ad blocker rule(s) and the page will load as expected.