Jimmyandfriends's movie-spoofs of "The Three Caballeros"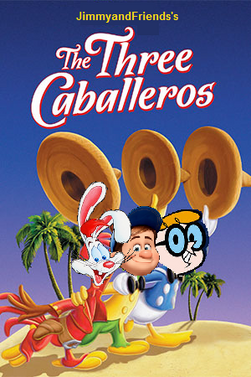 Cast:
Dexter (Dexter's Laboratory) as Donald Duck
Fix-It Felix Jr. (Wreck-It Ralph) as Jose Carioca
Roger Rabbit (Who Framed Roger Rabbit) as Panchito Pistoles
Woody Woodpecker as The Aracuan Bird
Tigger (Winnie the Pooh) as Pablo
Tigger's Round My Family Tree (The Tigger Movie) as The Penguins
Porky Pig (Looney Tunes) as The Flying Gauchito
Buzz Lightyear (Toy Story) as Burrito the Flying Donkey
Alice (Alice in Wonderland (1951)) as Aurora Miranda
Wendy Darling (Peter Pan) as Carmen Molina
Minnie Mouse (Disney) as Dora Luz
Anna (Frozen) as The Girl who Dances with Catcus
Pedro (Saludos Amigos) as Flying Mexico Carpet
Benny the Cab (Who Framed Roger Rabbit) as Baia Train
Shere Khan (The Jungle Book) as Toy Bull
Ad blocker interference detected!
Wikia is a free-to-use site that makes money from advertising. We have a modified experience for viewers using ad blockers

Wikia is not accessible if you've made further modifications. Remove the custom ad blocker rule(s) and the page will load as expected.