Jimmyandfriends's movie-spoofs of "The Emperor's New Groove"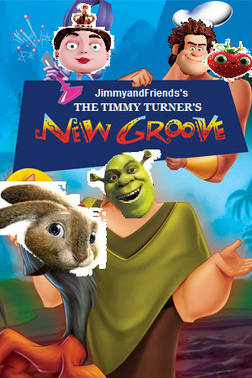 Cast:
Timmy Turner (The Fairly OddParents) as Kuzco
E.B. (Hop) as Kuzco Llama
Shrek as Pacha
Wreck-It Ralph as Kronk
Queen (The BoxTrolls) as Yzma

​Chapters:
Opening/"Perfect World"
Shrek's Arrival/Timmy's Advisor
Timmtopia
Queen's Revenge
A Diabolical Dinner
Finishing the Job
Shrek Returns Home
Demon Bunny!
Into the Jungle/Shrek to the Rescue
The Transition of Power
Fight at the Bridge
In Hot Pursuit
Mudka's Meat Hut
A Bunny Alone/Friends, Finally
Playtime at Shrek's House
The Chase
Queen Confronts E.B.
A Mix-Up of Vials
Queen's Cat Form
A Whole New Groove
End Credits (Part 1: My Funny Friend and Me)
End Credits (Part 2)
Ad blocker interference detected!
Wikia is a free-to-use site that makes money from advertising. We have a modified experience for viewers using ad blockers

Wikia is not accessible if you've made further modifications. Remove the custom ad blocker rule(s) and the page will load as expected.