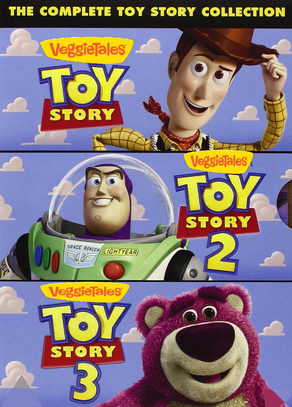 Even though a collection like this already exists, the one made by Big Idea,
Toy Story 3-Movie DVD Collection (VF2000's version)
, is a fan-fic thing to make.
This is what happens when Toy Story (September 2000), Toy Story 2 (February 2009), and Toy Story 3 (March 2010) are made by Big Idea, the masterminds behind VeggieTales, LarryBoy, and 3-2-1 Penguins!, respectively replacing Esther: The Girl Who Became Queen, Abe and the Amazing Promise, and Pistachio: The Little Boy that Woodn't.
Stories
Toy Story
Toy Story 2
Toy Story 3
Character Voices
Mike Nawrocki - Woody, Rex, Aliens
Phil Vischer - Buzz Lightyear, Hamm, Mr. Potato Head, Slinky Dog, Geri, Sarge, Stinky Pete, Aliens
Cydney Trent - Jessie
Lisa Vischer - Andy
Kellie Pickler - Barbie
Rob Paulsen - Ken
Keri Pisapia - Mrs. Potato Head
Terry Crews - Lotso
Jackie Ritz - Andy's Mother, Bo Peep (Toy Story)
Megan Murphy - Molly, Hannah, Sid's Mom, Bo Peep (Toy Story 2)
Kurt Heinecke, Brian K. Roberts, Joe Sapulich, Joe Spadaford, Chuck Vollmer - Aliens, Green Army Men
Tim Hodge - Lenny, Al, Sid
Greg Whalen - Wheezy
Tim Gregory - Zurg
DVD Contents
Warning screen
Coming Soon to Own on DVD
VeggieTales: Beauty and the Beet teaser
Now Available to Own on DVD
VeggieTales: The SpongeBob SquarePants Movie 3 trailer
DVD menu
Why We Do, What We Do
Toy Story
Toy Story 2
Toy Story 3
Credits
Big Idea logo
DVD Credits
DVD Bonus Features
Behind the Scenes
Concept Art
Discussion Guide
Studio Store
Downloadable Activities
How to Draw Buzz Lightyear
"You've Got a Friend in Me" Singalong
"Sneeze if You Need To" Singalong
"Woody's Roundup" Singalong
"Where Have All the Staplers Gone?" Singalong
English and Spanish Subtitles
Story Gallery
Ad blocker interference detected!
Wikia is a free-to-use site that makes money from advertising. We have a modified experience for viewers using ad blockers

Wikia is not accessible if you've made further modifications. Remove the custom ad blocker rule(s) and the page will load as expected.