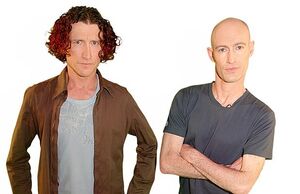 Shane Dundas (born March 30, 1959) and David Collins (born January 19, 1969) known as The Umbilical Brothers are an Australian comic duo. Write the first section of your page here.
History
Dundas and Collins met in 1988 at the University of Western Sydney in a salsa club on a hot summer's western Sydney's evening, where Collins swung around and broke Dundas' nose. Although their instuctors tried to keep them apart after the incident, they got together on their own, made amends and began writing routines.
Ad blocker interference detected!
Wikia is a free-to-use site that makes money from advertising. We have a modified experience for viewers using ad blockers

Wikia is not accessible if you've made further modifications. Remove the custom ad blocker rule(s) and the page will load as expected.