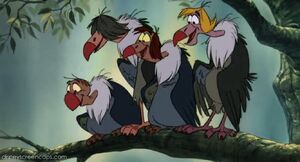 The Vultures
(also known as The Jungle Book Vultures) are a group of british birds who are characters from the 1967 Walt Disney film,
The Jungle Book
. They are the Disney parodies of the Beatles, although they sing like a barber shop group. Their names are Buzzie, Flaps, Dizzy, and Ziggy.
Role in the film
They're very friendly and funny birds who often like making jokes and sing songs.
Counterparts
Genghis Frog, Napoleon Bonafrog, Jagwar, and Dreadmon (Teenage Mutant Ninja Turtles)
Gallery