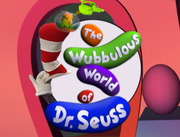 The Wubbulous World of Dr. Seuss: The Cat's Heroes
is a fan-fiction
Wubbulous World of Dr. Seuss
DVD release featuring three episodes which previously have not been released on VHS or DVD. Distributed by Dr. Seuss Enterprises, the Jim Henson Company, and Lionsgate Entertainment.
Episodes
1. The Mystery of Winna-Bango Falls
2. Max the Hero
3. The Cat in the Hat Helps a Friend
Description
Follow the Cat in the Hat and all his friends from Seussville on lots of imaginative adventures as they save the day and help out friends in need.
First, in The Mystery of Winna-Bango Falls, the once-a-year Fruzzle-Floom fruits have blossomed, which puts all of Seussville in a good mood, except Jane Kangaroo, who insists that everyone else stop sliding around on the peels instead of discarding them. Upon doing so, the mighty waterfall mysteriously stops flowing. It's up to Thidwick the Moose to piece together the ecological chain and restore the water source.
Next, in Max the Hero, Max, the Grinch's dog, has saved a baby's life and won the hearts of everyone in Seussville, including Mayor Stovepipe, who invites him to live with her in her mayoral mansion. This leaves the Grinch alone, interviewing candidates for a new pet, and not missing Max at all... maybe.
Finally, in The Cat in the Hat Helps a Friend, Terrence McBird wants to play a song with the Little Cats, but they get carried away and do their own thing. In the Wubbulous World, we see how people help each other in Seussville, including Milo, who helps a dragon in distress when he's sent to investigate strange smoke coming from a cave.
So, what are you waiting for? The Cat and his friends are ready to spend some time with you in the magical land of Seussville.
Box Art
Front Cover
The Cat in The Hat wearing a medal
Thidwick the Moose wearing a medal
The Grinch with Max wearing a medal
Back Cover
Screenshot of the citizens of Seussville singing about Fruzzle-Floom Fruit in The Mystery of Winna-Bango Falls
Ad blocker interference detected!
Wikia is a free-to-use site that makes money from advertising. We have a modified experience for viewers using ad blockers

Wikia is not accessible if you've made further modifications. Remove the custom ad blocker rule(s) and the page will load as expected.