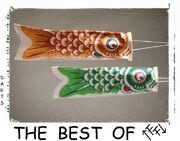 La primera y única compilación de éxitos de FF sale a la luz después de su separación definitiva. Cuenta con 15 temas de los cuales 13 son de los cinco álbumes de Four Flowers y los dos restantes son "Jugar al fútbol", único éxito de la banda después del 2008 y "Tus padres feos", una canción que se planeaba para el regreso de FF y ser la primera canción lanzada para Youtube en un single. Finalmente la canción muestra la única aparición de Lautaro Marcos, el primo de Matías, como miembro del grupo. El tema cuenta con una graciosa historia y aun gran Danilo en el piano.
FF se ha separado finalmente pero puede que haya una ultimo álbum organizado por Darts™ para conmemorar a (hasta ahora) la mejor banda de dicha compañía. Esta seria hecha por Danilo Fratondi tocando con The Midi Band canciones de FF, dándole un gran tributo final a este grupo que grabo y tuvo éxitos con mas singles que cualquiera en Darts.™
Track listing
Ad blocker interference detected!
Wikia is a free-to-use site that makes money from advertising. We have a modified experience for viewers using ad blockers

Wikia is not accessible if you've made further modifications. Remove the custom ad blocker rule(s) and the page will load as expected.