Thingee presents Thomas and Friends, aka "Bowled Out and Other Stories" 
is a fan-fiction Thomas VHS Release hosted by Thingee the alien and Jason Gunn from TVNZ. the VHS featured one season 1 episode narrated by Ringo Starr, one season 3 episode narrated by George Carlin and two season 4 episodes narrated by Michael Angelis.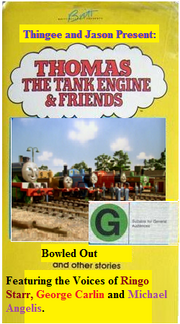 Stories
The Flying Kipper (Ringo Starr)
One Good Turn (George Carlin)
Bowled Out (Michael Angelis)
Granpuff (Michael Angelis)
Notes
Narrated by Ringo Starr, George Carlin and Michael Angelis.
Release Date: August 23rd 1995.
Distrubited by Roadshow Entertainment NZ.
VHS Artwork
Front Cover 
Top: Henry, Stepney, Thomas, James and Duck from "Bowled Out"
Back Cover
Ad blocker interference detected!
Wikia is a free-to-use site that makes money from advertising. We have a modified experience for viewers using ad blockers

Wikia is not accessible if you've made further modifications. Remove the custom ad blocker rule(s) and the page will load as expected.