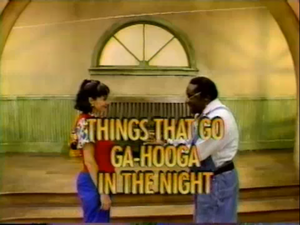 Stacy has to spend the night at the station for the mail. The kids ask if she will get pajamas, which reminds her to get her sleeping bag. Leaving the kids alone, they wonder if it will be scary at the station - just as they see a hat float across the floor. Very scared, they see Mr. Conductor pop out from under it. He teases them about seeing ghosts, which leads him to the story of Percy playing a trick on Thomas.
After the story, he tells them he sometimes spends the night in his switch house. The kids ask Stacy if they can sleep at the station, to which responds that only if it is okay with their parents. Just then, a lady named Wendy comes in. Wendy makes things out of paper and the kids want scary masks. When she is finished, she catches her train and leaves.
Stacy called their parents, who gave permission, so she goes and gets sleeping bags for them. Schemer comes in and learns about the night they will have. He tries to frighten them, but they are not scared and leave. Schemer is determined to scare them.
Late that night, the kids are on the station floor in their sleeping bags. They cannot get to sleep, so Mr. Conductor tells them a "hairy" story about Percy's antics as a caterpillar.
A number of antics lead to Stacy and Harry investigating banging sounds. Schemer dressed as a ghost tiptoes in and leaves before anyone sees him. That fails, so he becomes the man with his head on backwards. He goes up to Matt and Tanya, who are standing covered in thir sleeping bags. This scares Schemer who runs around getting scared by the masks and the ghost cape carried by the mail bag. Once he leaves, Stacy and Harry settle down right beside the kids. They exchange their goodnights, even to Schemer, who pops up over them and gives them one last scare and a laugh to help them fall asleep.

They have no bedrooms, so now they call the Action Fingers to help them get a place to sleep. They couldn't find any, so now it's up to Shane and David to have their usual room finding. The first place they go to is a pitch black room that looks like a perfect place to sleep- until some man comes in snoring away! Shane and David soon find out it's theSnoring Room, which is a very bad place to sleep unless you like snoring! The next place Shane and David end up in is a room with comfy beds, so they try to get in them- only a rooster is trying to wake them up! They send him away in some sort of bird language, which he goes away. They try to sleep, but are awoken by Bugle Guy, who tells them that they are in the Wake Up Room. They leave that and go back to the apartment to find a place to sleep there. Puppet can't get to sleep again, so Shane and David make an extended version of the lullaby they sung earlier, and it makes Puppet fall asleep instantly! Shane and David go to one last room, which is a room with a whole bunch of shapes. Shane and David try to sleep on them, but keep falling off or sleeping in an uncomfortable way. A girl comes and tells them that they are in the Shape Room. She goes and counts the sides of the hexagon that Shane was trying to sleep on, resulting in an instant replay. They leave after not finding a place to sleep. It's getting very late and they decide to go outside.
Ad blocker interference detected!
Wikia is a free-to-use site that makes money from advertising. We have a modified experience for viewers using ad blockers

Wikia is not accessible if you've made further modifications. Remove the custom ad blocker rule(s) and the page will load as expected.