Thomas & Twilight Sparkle's Adventures in Elmopalooza
is a crossover movie starring the cast of Thomas the Tank Engine & the cast of My Little Pony: Friendship is Magic
Characters (in order of appearance):
Thomas
Annie & Clarabel
Sir Topham Hatt
Winston (cameo)
Percy
Victor
Kevin
Henry
Gordon (train)
James
BoCo (cameo)
Donald
Douglas
Bill
Ben
Mavis
Skarloey
Duncan
Bash
Dash
Duck
Whiff
Scruff
Harvey (cameo)
Cranky
Toad
Peter Sam
Duke
Sir Handel
Salty
Spencer
Arthur
Toby
Murdoch
Stanley
Oliver
Emily
Edward
Henrietta (cameo)
Rheneas (cameo)
Rusty (cameo)
Ferdinand
Paxton (cameo)
Luke (cameo)
Troublesome Trucks (cameo)
Twilight Sparkle
Spike
Rainbow Dash
Shining Armor
Princess Cadence
Princess Celestia
Princess Luna
Pinkie Pie
Applejack
Rarity
Fluttershy
Big Macintosh
Apple Bloom
Sweetie Belle
Scootaloo
Derpy Hooves (cameo)
The Wonderbolts (cameo)
Soarin' (cameo)
Spitfire (cameo)
Vinyl Scratch (cameo)
Fancypants (cameo)
Elmo
Kermit the Frog
Big Bird
Ernie
Bert
Cookie Monster
Jon Stewart
Prairie Dawn
Gordon (human)
Susan
Bob
Gina
Mr. Handford
Grover
Chicken
David Alan Grier
Telly
Oscar
Slimey
Count Von Count
Two-Headed Monster
Zoe
Rosita
Mr. Snuffleupagus (Snuffy)
The Fugees
Elephant
Penguins
Biff
Gloria Estefan
Luis
Maria
The Mighty Mighty Bosstones
Richard Belzer
Sparky
Shawn Colvin
Blue Martian
Chris Rock
Pink Martian
Orange Martian
En Vogue
Frazzle
Rosie O'Donnell
Jimmy Buffett
Frogs
Baby Bear
Cindy Crawford
Tyra Banks
Alex
Kenny Loggins
List of characters in the songs:
Just Happy to Be Me [Thomas, Percy, Twilight Sparkle and Pinkie Pie]
Mambo I, I, I [Victor and Kevin]
Zig Zag Dance [Donald, Douglas, Duncan, Pinkie Pie and Rainbow Dash]
I Don't Want to Live on the Moon [Henry and Fluttershy]
I Want a Monster to Be My Friend [No one will guest star in this song]
Nearly Missed [Thomas and Twilight Sparkle]
Caribbean Amphibian [Duck and Victor]
One Small Voice [Thomas, Percy, Twilight Sparkle and the Cutie Mark Crusaders]
Songs [The Engines and the Ponies]
List of Additional songs in the "Songs" medley:
After ABC-DEF-GHI:

Winter Wrap Up
Art of the Dress
Thomas Anthem
Toby

After C Is for Cookie:

Cutie Mark Crusaders Theme
At the Gala
Percy's Seaside Trip
James the Really Splendid Engine

After Who Are the People in Your Neighborhood:

B.B.B.F.F.
Love is in Bloom
Misty Island Rescue [song]
Blue Mountain Mystery [song]
Trivia:
The Thomas footage will be shot in both it's original model format and it's current CGI format
Thomas' Anthem, Toby, Percy's Seaside Trip & Misty Island Rescue have sing along lyrics
See Also:
Movie: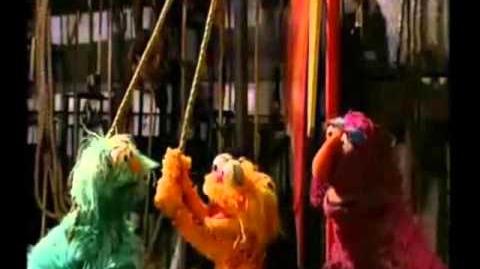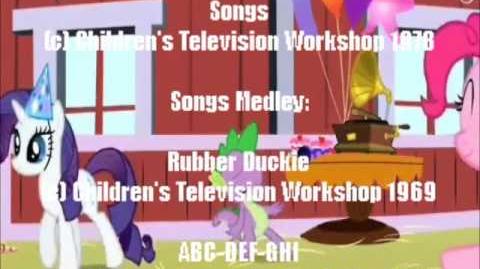 Ad blocker interference detected!
Wikia is a free-to-use site that makes money from advertising. We have a modified experience for viewers using ad blockers

Wikia is not accessible if you've made further modifications. Remove the custom ad blocker rule(s) and the page will load as expected.