This is the first Thomas and Friends Paramount Home Video release. It is also the first one distributed by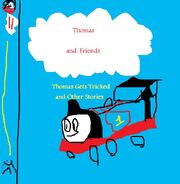 The Video Collection in the US.
Episodes
Thomas Gets Tricked
Edward Helps Out
Come Out Henry
Henry to the Rescue
A Big Day for Thomas
Trouble for Thomas
Thomas Saves the Day
James Learns a Lesson
Foolish Freight Cars
A Proud Day for James
Thomas and the Conductor
Thomas Goes Fishing
Terence the Tractor
Thomas and Bertie's Great Race
Ad blocker interference detected!
Wikia is a free-to-use site that makes money from advertising. We have a modified experience for viewers using ad blockers

Wikia is not accessible if you've made further modifications. Remove the custom ad blocker rule(s) and the page will load as expected.