Thomas and Friends the Magical Adventures/Rosie Comes to Lunch (and other 'Thomas and Friends' adventure stories narrated by Pierce Brosnan)
Discuss this page

0
Share
Ad blocker interference detected!
Wikia is a free-to-use site that makes money from advertising. We have a modified experience for viewers using ad blockers

Wikia is not accessible if you've made further modifications. Remove the custom ad blocker rule(s) and the page will load as expected.
Rosie doesn't know about her mistakes when she accidentally crashes right into the yard mistress's cabin.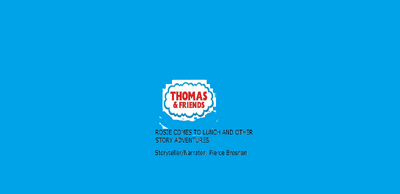 Rosie Comes to Lunch And other 'Thomas and Friends' Adventure Stories
Thomas and Friends the Magical Adventures
Release Date
September 24, 2011
Format
Close Family Film
Region
Paramount Pictures/Warner Bros. Kids
Distributor
Strand VCI Entertainment
Disc Count
4 episodes
Episode Count
1. Rosie Comes to Lunch

2. Old Slow Coach We Meet Again 3. Rosie the Ghost Train 4. Sea Salty Air

Running Time
78 Minutes and 33 2nds
Retail Price
$32.10
Video
The Lesson is learning from your mistakes
Audio
Audio Commentary with Pierce Brosnan and the producers

English Audio Spanish Audio French Audio German Audio Japanese Audio Chinese Audio

Subtitles
English subtitles

Spanish subtitles French subtitles German subtitles Japanese subtitles Chinese subtitles

Purchase
[[[:Template:ASIN-USA]] Amazon.com]
[[[:Template:ASIN-UK]] Amazon.co.uk]
Next DVD
Rosie takes the Plunge (and other 'Thomas and Friends' adventure stories narrated by Pierce Brosnan)