Thomas and Twilight Sparkle's adventures in Amityville: The Awakening is a third crossover parody of Pooh's adventures but with Hiatt Grey and Stuington's series in the upcoming reboot of the Amityville series
Plot
The gang of ponies and trains get more than they bargained for when they go to the infamous Amityville house.
Trivia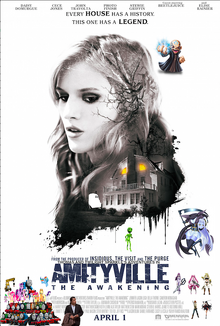 Kaos, John Travolta, Beetlejuice, Tatsumi, Leone, Akame, Mine, Sheele, #aliens and Lala guest star
Though the poster says the actual film comes on April 1 this year. The date has been moved to January 6, 2017
Ad blocker interference detected!
Wikia is a free-to-use site that makes money from advertising. We have a modified experience for viewers using ad blockers

Wikia is not accessible if you've made further modifications. Remove the custom ad blocker rule(s) and the page will load as expected.