Who Is He?
Why would you ask that? What does it matter?. All you need to know is he owns Thresholds Palace. Despite him owning the facility he also deals there. He deals Craps, Bakarah and various other games.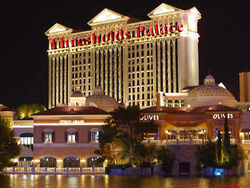 Thresholds Palace
Thresholds Palace is one of the main gambling establishments found on The Strip, Las Vegas. Threshold got most of his money from finding the treasure of Ted "Old Man" Binion and , like Binion, decided to have a casino. He bought Caesars Palace and re-named it as his own.
Followers
The Threshold is like a god to the people of Las Vegas who worship him on a daily basis and pay homage to his skill by sacrificing one citizen every noon
Ad blocker interference detected!
Wikia is a free-to-use site that makes money from advertising. We have a modified experience for viewers using ad blockers

Wikia is not accessible if you've made further modifications. Remove the custom ad blocker rule(s) and the page will load as expected.