Jimmyandfriends's movie-spoofs of "Mickey's Christmas Carol"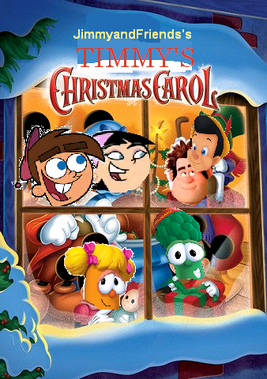 Cast:
Wreck-It-Ralph as Scrooge McDuck as Ebenezer Scrooge
Timmy Turner (The Fairly OddParents) as Mickey Mouse as Bob Cratchit
Dexter (Dexter's Laboratroy) as Donald Duck as Fred
Trixie Tang (The Fairly OddParents) as Minnie Mouse as Cratchit
Junior Asparagus and Laura Carrot (VeggieTales) as Cratchit Children
Pinocchio as Tiny Tim
Wallace (Wallace and Gromit) as Goofy as Jacob Marley
Flik (A Bug's Life) as Jiminy Cricket as Ghost of Christmas Past
Sheldon J. Plankton (SpongeBob SquarePants) as Willie the Giant as Ghost of Christmas Present
Constantine (Muppets Most Wanted) as Pete as Ghost of Christmas Future
Tigger and Pooh (Winnie The Pooh) as Ratty and Moley as Tax Collectors
Mr. Lunt (VeggieTales) as Mr. Toad as Fizzywiggs
Ad blocker interference detected!
Wikia is a free-to-use site that makes money from advertising. We have a modified experience for viewers using ad blockers

Wikia is not accessible if you've made further modifications. Remove the custom ad blocker rule(s) and the page will load as expected.