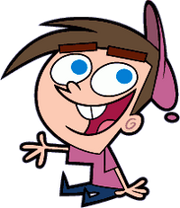 Timmy is a character from The Fairly OddParents. He is voiced by Tara Strong in the cartoon and played by Drake Bell in the live-action movie.
Bio
Age: 10 (for 50 years), 20 (real age), and 23 (live-action)
Date Of Birth: September 4
Family: Baby Poof (Fairy Godbrother), Cosmo, Wanda, Timmy's Dad (Father), Timmy's Mom (Mother), Sparky (Pet)
Friends: Chester (Best Friend), AJ (Best Friend), Trixie Tang (Girlfriend)
Enemies:Vicky,Foop,Crocker,Anti Cosmo and Anti Wanda,Anti Sparky
Counterparts (Male Version) (Do not delete, but you can add)
Theodore or Hank (Theodore Tugboat)
Mario or Yoshi (Super Mario Bros.)
Trent or Noah (Total Drama)
TJ (Recess)
Toad or Bowser Junior (SML)
Goku (Dragon Ball Series)
Mickey Mouse, Goofy, Donald Duck, or Pluto (Mickey Mouse)
Murray Wiggle (The Wiggles)
Rocky DeSantos (Mighty Morphin' Power Rangers/Power Rangers Zeo)
Big Bird, Ernie, Elmo, or Grover (Sesame Street)
Wesley Collins (Power Rangers Time Force)
Hobbes or Calvin (Calvin & Hobbes)
Mac or Blooregard (Bloo) Q. Kazoo (Foster's Home for Imaginary Friends)
Eddy, Ed, Johnny 2x4, or Edd (Ed, Edd, n Eddy)
Mandark (Dexter's Laboratory)
Kermit the Frog (The Muppets)
The Pink Panther (The Pink Panther, both are pink)
Counterparts (Female Version)
Gallery
Ad blocker interference detected!
Wikia is a free-to-use site that makes money from advertising. We have a modified experience for viewers using ad blockers

Wikia is not accessible if you've made further modifications. Remove the custom ad blocker rule(s) and the page will load as expected.