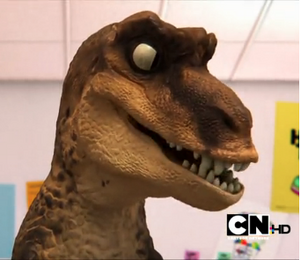 Tina Rex
is a recurring antagonist on
The Amazing World of Gumball
.
Bio
Species: Tyrannosaurus Rex
Skin Color: Brown
Allies: Gumball (at times), Darwin (at times), Jamie, Bobert (formerly)
Enemies: Gumball (usually), Darwin (usually), Penny, Banana Joe, Leslie, Clayton, Ocho, Anton (at times), Idaho, Alan
Counterparts (Female Version)
Jo Keener (Good Luck Charlie)
Charizard (Pokemon)
Lee Kanker (Ed, Edd n' Eddy)
Numbuh 86 (Codename Kids Next Door)
Quarry or Karai (Teenage Mutant Ninja Turtles)
Ranamon (Digimon Frontier)
Bluejay the Bird (Maya the Bee)
Counterparts (Male Version)
Gallery
Ad blocker interference detected!
Wikia is a free-to-use site that makes money from advertising. We have a modified experience for viewers using ad blockers

Wikia is not accessible if you've made further modifications. Remove the custom ad blocker rule(s) and the page will load as expected.