Welcome to the ToF-AMS mini wiki at Scratchpad!
You can use the box below to create new pages for this mini-wiki. Make sure you type [[Category:ToF-AMS]] on the page before you save it to make it part of the ToF-AMS wiki (preload can be enabled to automate this task, by clicking this link and saving that page. Afterwards, you may need to purge this page, if you still see this message).
About
Instrumentation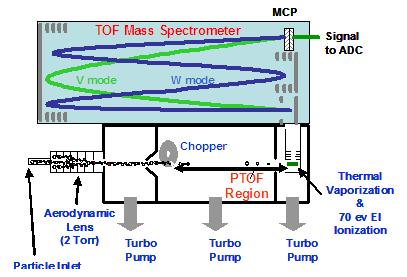 The Time-of-Flight Aerosol Mass Spectrometer (ToF-AMS) is a second generation instrument for the real-time measurement of size-resolved aerosol chemical composition. It is based on the highly successful design of the first generation quadrupole-based system, the Q-AMS . The ToF-AMS differs from the Q-AMS in the replacement of the quadrupole mass filter, with a custom designed Tofwerk time-of-flight mass Spectrometer.
Development
The ToF-AMS is developed and built by Aerodyne Research, in collaboration with Tofwerk the Jimenez Group at the University of Colorado, the Borrmann Group at the Max Planck Institute for Chemistry, and the Coe Group at the University of Manchester.
Application
Groups
Field Campaigns
Publications
Journal Articles
Conference Posters
Presentations
Software
Data Acquisition
Data Analysis
External Links.
ToF-AMS Related
Wiki Help
Ad blocker interference detected!
Wikia is a free-to-use site that makes money from advertising. We have a modified experience for viewers using ad blockers

Wikia is not accessible if you've made further modifications. Remove the custom ad blocker rule(s) and the page will load as expected.