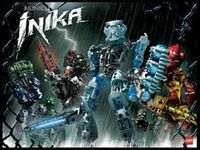 Toa Inikat syrjäyttivät tietämättään
Toa Nuvat
kun he palasivat Metru-Nuihin Mata-Nuin hengen pelastajina. He olivat siellä kaiken keskipiste ja Toa Nuvat muuttivat
Toatapio Nuvan
luokse.
Myöhemmin he päättivät mennä tapaamaan Toa Nuvia Sarjakuva maahan, eiväthän he olleet halunneet mitään pahaa Nuville alunperinkään. He saivat kuitenkin sotaisan vastaanoton Nuvilta. Silti he jäivät sankareidemme joukkoon, vaikkakin se oli Henkan pilan syytä.
Nyt Inikat ja Nuvat ovat tehneet aselevon, Bio-Maan pelastamiseksi.
Ad blocker interference detected!
Wikia is a free-to-use site that makes money from advertising. We have a modified experience for viewers using ad blockers

Wikia is not accessible if you've made further modifications. Remove the custom ad blocker rule(s) and the page will load as expected.