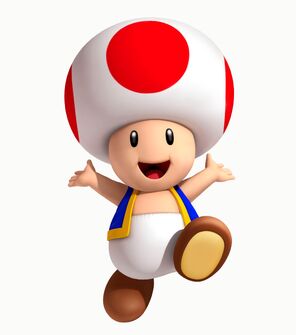 Toad
is a character from
Super Mario Bros.
Counterparts (Mario Version)
O.J./Otis (TUGS/Salty's Lighthouse)
Big the Cat, Charmy Bee, or Cheese (Sonic the Hedgehog)
Monroe Rechid or Patrick Star, Squidward Tentacles or SpongeBob SquarePants (SpongeBob SquarePants) 
Oliver (Oliver & Company)
Baymax (Big Hero 6)
Baby Herman (Who Framed Roger Rabbit)
Bowser Junior, Patrick Coleman, or Woody (SML)
Robbie (The Brave Little Toaster Goes to Mars)
Coo or Olie (Rolie Polie Olie)
Jimmy, Edd/Double D, Jonny 2x4 or Rolf (Ed, Edd 'n' Eddy) 
Delete (Cyberchase)
Tyler (Total Drama)
Jamie Bennett (Rise of the Guardians (2012))
Dave England (Jackass)
Lester Diamond (Casino (1995))
Mort (Madagascar)
Jeffrey (Failure to Launch (2006))
Police Officer at Mexican Border (Babel (2006))
Kenny "Cowboy Kenny" Bartram (Fantastic Four (2005))
Howie (RV (2006))
Tobias (Animorphs)
Max (Divergent (2014))
Shelby the Snail (Maya the Bee)
Counterparts (SuperMarioLogan Version)
Thomas, Percy, Bily, or Henry (Thomas and Friends)
Mario, Luigi, Yoshi, or King Koopa (Super Mario Bros)
Miles "Tails" Prower, Sonic The Hedgehog, or Knuckles The Enchidna (Sonic the Hedgehog)
Spongebob Squarepants or Patrick Star (SpongeBob SquarePants)
Chris Griffin, Neil Goldman, or Peter Griffin (Family Guy)
Bart Simpson, Lenny Leonard, Ralph Wiggum, Milhouse Van Houten, or Homer Simpson (The Simpsons)
Kyle Broflovski, Kenny McCormick, or Butters Stotch (South Park)
Ziggy or Sportacus (lazytown)
Perry the Platypus, Ferb Fletcher, or Phineas Flynn (Phineas and Ferb)
Cosmo, Chester McBadbat, Baby Poof, or Timmy Turner (The Fairly OddParents)
Carl Wheezer, Sheen Esteves, or Jimmy Neutron (Jimmy Neutron)
Phil DeVille or Chuckie Finster (Rugrats)
Rolf, Ed, or Eddy (Ed, Edd, n Eddy)
Tord, Matt, or Edd (Eddsworld)
Elmo, Ernie, Grover, or Snuffy (Sesame Street)
Jake Holling (Power Rangers Megaforce/Super Megaforce)
Gallery
Ad blocker interference detected!
Wikia is a free-to-use site that makes money from advertising. We have a modified experience for viewers using ad blockers

Wikia is not accessible if you've made further modifications. Remove the custom ad blocker rule(s) and the page will load as expected.