Toby the Tram Engine


Promotional picture of Toby in full CGi
Number
7, previously 68221
Class
LNER Holden Class J70 0-6-0T
Livery
Brown with black cowcatcher and sideplate (1914) brown grey cowcatchers and sideplates (1950), NWR chocolate brown with gray cowcatchers, blue sideplates and olive frames (since 1951)
Line
Knapford Junction to Ffarqhuar branchline/Great Waterton Tramwy
Built
1914
Builder
Stratford Works
Designer
James Holden
Date of birth
November 2, 1914 (age 103)
First Appearance
Toby and the Stout Gentleman
Voice Actors
Ben Small (UK), (Hero Of The Rails - Season 18)
Rob Rackstraw (UK) (Season 19 onwards)
William Hope (USA)
Jim Broadbent (UK/US), (All-New Shining Time Station series only)
Toby is a brown steam tram engine. He is one of the main protagonists in the Railway Series books, and the television show Thomas the Tank Engine and Friends.
Prototype
The prototype for Toby is a J70 class tram engine from the Great Eastern Railway. His cowcatchers and sideplates allow him to run on roadside tramways, which other engines are not allowed to do for safety reasons. J70s were used for light duties, such as branch line work and dock shunting He cameoed in Calm Down Caitlin.
They were most famously used on the Wisbech and Upwell Tramway, which local residents have erroneously claimed was the inspiration for Toby. In actual fact, inspiration for the character came from the Rev. W. and Christopher Awdry watching a J70 at work at Great Yarmouth, but all official biographies of the character state that he did come from that line.
In the Railway Series, Toby received a new livery of chocolate brown with blue sideplates (his colour remained the same in the TV series). This livery was designed to mimic that which he would have worn on the Great Eastern Railway.
Unfortunately, no J70s survive in preservation, but the Battlefield Line has constructed a diesel powered replica of Toby as have the East Anglian Railway Museum
On the Rev. W. Awdry's model railway, Toby was represented by a Y6, a locomotive similar to but smaller than the J70. Awdry wrote an article for Railway Modeller magazine on the construction of this locomotive.
Christopher Awdry has said that Toby is his favourite character, partly because he was there when his father received the inspiration to create him, but also because as a child he had travelled in the cab of two J70s.
Henrietta
Henrietta is Toby's faithful coach. As she is charmingly introduced in the book: "Toby is attached to Henrietta". She worked with Toby on their old railway, and when that line closed Toby could not bear to leave her behind. The stationmaster had wanted to turn her into a henhouse, but the Fat Controller agreed that "that would never do." The two are absolutely inseparable, and whenever they are apart they worry about each other.
Henrietta carries passengers and is used to bring quarry workers to and from work. She has even been used as the Fat Controller's private coach.
In the Railway Series books, Henrietta was the only named character not to be shown with a face, until book 41 of the series, Thomas and Victoria. In this book, Henrietta is depicted with a small rectangular face where a window on the end doors would be. It is the same colour as her cabin, like the other coaches.
Henrietta is based on a Wisbech and Upwell Tramway four-wheeled coach.
Elsie
Toby also has a brake van named Elsie, mentioned in The Island of Sodor: Its People, History and Railways and the 1979 Thomas the Tank Engine Annual. However, she has not yet appeared in any stories. According to Rev. W. Awdry, she is based upon a Wisbech and Upwell Tramway luggage van and shares a shed with Henrietta.
Full Size Replicas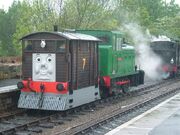 Many preserved railways hold Thomas the Tank Engine & Friends events.
There are at least two replica Toby locomotives in the UK.
One is based at the East Anglian Railway Museum. However unlike the J70 steam loco that Toby is based on, the replica Toby is in fact a diesel-hydraulic 0-4-0 shunter with a metal casing over it. When this diesel was converted a replica Henrietta was built from scratch. The underframe was taken from an old box van, but the body was a complete new build.
Toby and Henrietta can be seen running on the Museum's Thomas & Friends days and also at some other preserved railways around the country from time to time.
Another replica tours the country; pictured here at the Avon Valley Railway on their 'Thomas Day' in May 2007.
Toby in the television series
In Toby and the Flood, although Toby had different drivers, one resembles Ringo Starr.
In American version, Martin Sherman was originally going to voice Toby, but was later replaced by William Hope.
Toby in Thomas and the Magic Railroad
Toby is first seen reminding the other engines that they mustn't let Diesel 10 push them. Later, after Diesel 10 overhears Thomas and Percy's conversation about how Mr. Conductor travels to Sodor, Toby manages to stall Diesel 10 by ringing his bell resulting in a shed falling atop the Diesel and his sidekicks.
Theme
Toby's theme is his Season 1-2 theme.
Counterparts (Male Version) (Hero Version)

 WARNING: You may add appropriate counterparts. But, do NOT delete any.
O.J./Otis (TUGS/Salty's Lighthouse, both are old)
Digby or Baddeck (Theodore Tugboat)
Captain Falcon (F-Zero)
Captain Rescue, Uncle Chuck, Chuck Thorndyke or Miles "Tails" Prower (Sonic the Hedgehog)
Plato (Garfield and Friends, both are old and brown)
Runt (Animaniacs, both are brown)
Margaret's Dad (Horrid Henry)
Grandpa Dave or Alan "The Brain" Powers (Arthur; the former is old)
Captain Blue SquarePants (SpongeBob SquarePants)
Larry (Doug)
Matoran/Toa Metru Onewa (Bionicle, Both are Brown)
Grand-Bot or Timothy the Thunder (Harror the Robot, the Former is Old)
Murfy or Bubble Dreamer (Rayman)
Fidgel (3-2-1 Penguins)
Balon Von Ball (31 Minutes, Both are Old)
Linebeck (The Legend of Zelda)
Jebediah (The Little Engine That Could/Casey Jr. and Friends)
Bullseye (Toy Story, both are brown)
Grandpa Abe Simpson (The Simpsons, both are old)
Gusty the Elf (Wee Sing The Best Christmas Ever)
Toby (fan-made), Tishka's Dad or Vasilych (Trains, the Former shares the Same name & Old)
Gary Kasner (King of the Hill)
Mr. Garrison (South Park)
Blink (Spyro the Dragon)
Dhalsim (Street Fighter)
Pappy (The Fairly OddParents)
Dr. Fineberg (T.U.F.F. Puppy)
Fixit (Teen Titans)
Principal Wiloughby (Jimmy Neutron)
Professor Utonium (Powerpuff Girls)
Braeburn (My Little Pony: Friendship is Magic)
Russel Ferguson (Littlest Pet Shop (2012))
Roly Mo (Fimbles and The Roly Mo Show)
Fedora Man (Fanboy & Chum Chum)
Monty Uno/Numbuh Zero (Codename: Kids Next Door)
Big Ears (Noddy's Toyland Adventures)
Major Forbes (Postman Pat)
Slim (A Bug's Life)
Jacques (Finding Nemo)
Dr. Marbles (Cyberchase)
Jerry (Monsters, Inc.)
Uncle Remus (Song of the South)
The Secretary Bird (Bedknobs & Broomsticks)
Hippie Runt (Doki's Big Wonderland, both are Old)
Oldman Koala (Claude & Cia's World, both are old)
Uncle Neptune (World of Doki)
Lampie (Pete's Dragon)
Mr. McKnight (Scooby Doo)
Grandpa Frank Duncan (Good Luck Charlie)
Geppetto (Pinocchio)
Master Mantis or Dr. Verne Crygor (WarioWare: Portfolio Cartoon, all Three are Old)
Zuba (Madagascar)
Farmer Brown (Drawn to Life)
C3-PO (Star Wars)
Old Oscar (Jay Jay The Jet Plane)
Lorca or Quetzal (Dragon Tales)
Master Roshi (Dragon Ball Z)
Starchy (Adventure Time)
Frank's Father (3 Friends and Jerry)
Doc Emmett Brown (Back to the Future)
Fat Crow (Dumbo)
Harold the Prophet (Flushed Away)
Trigger Happy (Skylanders)
Skipper Riley (Planes)
Crank (Robots)
Oldy or Rusty (Coilbook)
Grandad or Uncle Albert (Only Fools and Horses)
Auberon Mole (The Wind in the Willows)
Troupadour (Babar)
Pingu's Grandpa (Pingu)
Pong Ping (Rupert)
Vitruvis (The LEGO Movie)
Filburt (Rocko's Modern Life)
Whoops Man (The Show of the Mr. Men (Fan-Made Series))
Clam (Camp Lazlo)
Little Jacob (Grand Theft Auto IV)
Cobby Hugglemonster (Henry Hugglemonster)
Uncle Ted (Bobby's World)
Leonardo da Vinci (Mr. Peabody & Sherman (2014))
Aaron (Recess)
Crawley (Maya the Bee Movie (2014))
Dr. Gallio (The Snorks)
The Farmer (Shaun the Sheep)
Counterparts (Female Version)

 WARNING: You may add appropriate counterparts. But, do NOT delete any.
Flora, Dowager Hatt, Elizabeth, Old Slow Coach, or Caitlin (Thomas the Tank Engine and Friends, Toby and Flora are both Trams)
Bluenose (Theodore Tugboat)
Tyne (Chuggington)
Grandma Lulu Pickles (Rugrats)
Grandma Linda Duncan (Good Luck Charlie)
Applejack, Fluttershy or Mayor Mare (My Little Pony: Friendship is Magic)
Dr. Booboogone (Dragon Tales: both are old)
Counterparts (Villain Version)

 WARNING: You may add appropriate counterparts. But, do NOT delete any.
Den (Thomas the Tank Engine and Friends)
Trivia
Toby's model was on display at Drayton Manor, but it was stolen in early 2011.
Gallery

Main article:
Toby the Tram Engine/Gallery
See also
Ad blocker interference detected!
Wikia is a free-to-use site that makes money from advertising. We have a modified experience for viewers using ad blockers

Wikia is not accessible if you've made further modifications. Remove the custom ad blocker rule(s) and the page will load as expected.