Togekiss
(Toki)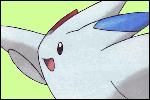 Desempenho
Lutas Oficiais
13
Vitórias
7
Derrotas
6
Aproveitamento
~60%
Associado(a) à:
Platinum Clã

Togekiss , best known for Toki, is one of several participants Blast Battle. It is a well-known participant. It is the only participant who Fought with the same fake profile in every edition of the tournament ☃☃.
História
Pré Blast Battle e Vida Pessoal
Togekiss não era popular antes do Blast Battle. Passou a frequentar chats de msn após sua participação no torneio. Togekiss ja teve duas namoradas, Flor, uma Togetic que se deletou, e a Espeon laranja Kiwi. Togekiss é especialista em hacks de Game Boy Advance e também em desenhos no paint. Chegou a tentar criar eventos pokemon, mas não teve sucesso em nenhum. Foi um dos responsáveis (junto com Machoke e Pedro Meowth) pela união matrimonial de Hitmontop e Charizard Pink.
Blast Battle I
Togekiss não teve uma boa campanha. Apesar de ter feito uma das batalhas mais incríveis do Blast Battle, não chegou a vencer nenhuma batalha nesta edição do Torneio, perdendo na primeira fase para o campeão Hitmontop. Alguns dizem que Togekiss fez uma luta melhor até mesmo do que os participantes que perderam posteriormente. O azar de Togekiss foi enfrentar o lutador mais preparado da edição logo na primeira fase. O resultado da luta foi muito elogiado por Tio Chan.
Blast Battle II
Ja na segunda edição do torneio, Togekiss chegou a fazer uma campanha melhor que a campanha anterior. Chegou até a segunda fase. Na primeira fase, Togekiss enfretou Nyno Umbreon, seu amigo. A batalha foi difícil e conseguiu dividir a opinião do público. Apesar de confusa no início, foi uma ótima batalha. Na segunda fase Togekiss lutou contra o futuro campeão Shiny Aipom, mas não se deu muito bem e acabou perdendo. Era a segunda vez que Top era barrado por um campeão em suas campanhas do Blast Battle. Desta vez ainda carregava um grande favoritismo.
Blast Battle III
Começou bem em uma luta contra Bako, venceu facilmente, após uma luta bastante equilibrada e passou para a segunda fase onde enfrentou Mudkip, que vinha de uma vitória inesperada contra Snorunt Flakes. Desta vez venceu com uma certa dificuldade e passou para a terceira fase. A terceira fase tinha como adversário (ou melhor: a adversária) a favorita ao título, Charizard Pink. Togekiss vinha lutando bem, más não compareceu no tempo certo e acabou encerrando sua participação nas quartas de final, com uma derrota por WO. Apesar de tudo, foi uma de suas melhores campanhas no torneio.
Blast Battle Tag!
Toki fez dupla com um antigo amigo, Rhyperior. Sua dupla se chamava "Chocolates de Pedras Voadoras", em referência a um de seus vícios, o chocolate, e ao tipo do seu parceiro, pedra. Eles fizeram uma das poucas lutas que teve fim no Blast Battle Tag! contra a dupla gelada: "The Ice Ones" de Snorunt Flakes e Glalie. A luta foi a única experiencia oficial de Pingu como juiz, e gerou polêmica, pos Togekiss e seu pareceiro que eram os favoriros perderam a luta.
Blast Battle IV
Togekiss estreou sua participação no Blast Battle IV em uma luta contra o novato Medicham. Foi uma luta bastante equilibrada, mas que teve um resultado muito polêmico, contestado por Red Game, Plusle e outros. Togekiss venceu por pouco no resultado de Pedro Meowth e seguiu adiante. Na segunda fase enfrentou um velho conhecido: Mudkip. Talvez por já conhecer as táticas de seu adversário, venceu mais uma vez. Na terceira fase voltou a enfrentar Medicham, que tinha voltado na repescagem. Mas o que tinha tudo para ser uma revanche ficou apenas no WO que favorecia Toki. Já na crise do Blast Battle, fez a luta de nº 23 com Grovyle, e venceu por WO. Na final, perdeu para Leafia por WO. Apesar dos problemas, pela primeira vez chegou a uma final, e ficou com o vice-campeonato.
Blast Battle V
Togekiss não fez uma boa campanha no Blast Battle V. Talvez tenha sido sua pior campanha. Na primeira fase enfrentou o veterano Glalie, que apesar de sempre ter sido um coadjuvante no Blast Battle estava em sua melhor fase. O resultado de Plusle deu vitória ao Glalie, e eliminou Toki do torneio. Apesar da eliminação pecoce, Togekiss ainda pôde disputar uma vaga no torneio através da repescagem contra o novato Dark Heart, mas perdeu por WO.
Estilo de Luta
Togekiss foi um dos responsáveis pela luta que originou o que é o método Blast Battle de lutar desenvolvido por Pedro Meowth. A sua primeira luta com Hitmontop, fez gerar o estilo de luta mais influênciante de todo o torneio. Ao longo do Torneio, Togekiss manteve seu modo de lutar, aprimorando-o com outras estratégias e combos. Seu estilo de luta já influenciou muitos lutadores como Hitmontop, Snorunt Flakes, Glalie, Nyno Umbreon, Grovyle, Charizard Pink, Dark Heart, e alguns membros do T.P.I..
Ataques
References
Rodapé
Ad blocker interference detected!
Wikia is a free-to-use site that makes money from advertising. We have a modified experience for viewers using ad blockers

Wikia is not accessible if you've made further modifications. Remove the custom ad blocker rule(s) and the page will load as expected.