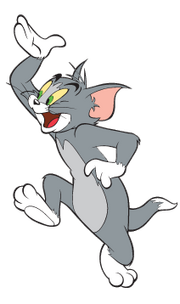 For the animal:
Domestic short-haired cat
Thomas "Tom" Cat is a fictional character who introduced in 1940 film Puss Gets the Boot. He is a blue/grey anthropomorphic handsome domestic short-hair cat. He is a arch-rivals of Jerry, Nibbles, Quacker and others.
Bio
Name: Thomas "Tom" Cat
Gender: Male
Species: Cat
Family: Cousin George
Age: 30, 31 (some episodes)
Birthday: 10 February
Friends/Allies: Jerry (sometimes), Tuffy (sometimes), Quacker (sometimes), Spike (sometimes), Meathead, Butch, Toodles (girlfriend)
Enemies/Rivals: Jerry (arch-rival), Quacker, Tuffy, Spike, Tyke, Butch (sometimes)
Likes: Jerry (sometimes), Milk, Fish, Catching Mice
Dislikes: Jerry (usually), Getting injured, being retaliated
Counterparts (Boy version)

 WARNING: You may add appropriate counterparts. But, do NOT delete any.
Donkey Kong, Wario, Luigi, or Oogtar (Super Mario Bros.)
Roy, Garfield, Bo, or Wade (Garfield and Friends)
Ralph, Mr. Plotz, or Dr. Otto Scratchansniff (Animaniacs, the former chasing Yakko)
Alex the Lion or Himself (Madagascar)
Christopher Robin (Winnie the Pooh; both are handsome)
Puss in Boots (Shrek/Puss in Boots; both are cats)
Bert, Grover, or Ernie (Sesame Street)
Leatherhead or Himself (Teenage Mutant Ninja Turtles)
Counterparts (Girl version)

 WARNING: You may add appropriate counterparts. But, do NOT delete any.
Gallery
See Also
Ad blocker interference detected!
Wikia is a free-to-use site that makes money from advertising. We have a modified experience for viewers using ad blockers

Wikia is not accessible if you've made further modifications. Remove the custom ad blocker rule(s) and the page will load as expected.