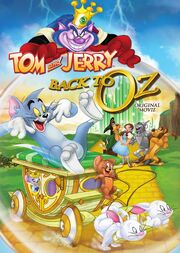 Tom and Jerry: Back to Oz is a 2016 direct-to-video animated film produced by Warner Bros. Animation, the film was the sequel to the 2011 direct-to-video film, "Tom and Jerry and The Wizard of Oz" and set for the June 21, 2016 release on DVD.
Parodies (Don't delete, but you can add some more)
See Also
Ad blocker interference detected!
Wikia is a free-to-use site that makes money from advertising. We have a modified experience for viewers using ad blockers

Wikia is not accessible if you've made further modifications. Remove the custom ad blocker rule(s) and the page will load as expected.