RugratsFan360's movie-spoof of Disney 2004 film "Piglet's Big Movie"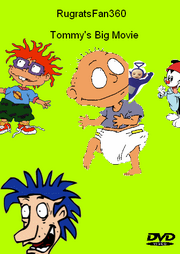 Cast:
Winnie the Pooh - Chuckie (Rugrats)
Piglet - Tommy (Rugrats)
Tigger - Stu (Rugrats)
Rabbit - Phil (Rugrats)
Eeyore - Tinky Winky (Teletubbies)
Owl - Yakko (Animaniacs)
Kanga - Dot (Animaniacs)
Roo - Wakko (Animaniacs)
Christopher Robin - Jimmy Neutron (Jimmy Neutron Boy Genius)
The Bees - The Wolf, The Lion, The Dragon
DVD
Play Movie
Chapter Selections
Opening Titles
The Big Small
I Wasn't So Small
Missing Tommy
Meetin Dot and Wakko
Tommy Takes A Bath
The Expedition to Find the North Pole
Where's Tinky Winky
Wakko Goes Swimming
The House at Chuckie Finster
Remembering Tommy
Finding Tommy
Tommy Saves Chuckie
The Scrap Papers Floated Down the River
Tommy's Birthday Party
End Credits
Options
Audio Options - English and Spanish
Subtitles - English for the Hearing Impaired and None
Special Features
Games and Activites
Theaterical Trailer
Tommy and Company Exsclusive Sneak Preview
Storyboard Pencil Test to the Movie
Register Your DVD
Ad blocker interference detected!
Wikia is a free-to-use site that makes money from advertising. We have a modified experience for viewers using ad blockers

Wikia is not accessible if you've made further modifications. Remove the custom ad blocker rule(s) and the page will load as expected.