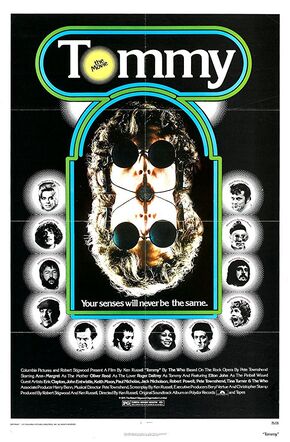 Tommy is a 1975 British musical film, based on The Who's 1969 rock opera album musical Tommy. It was directed by Ken Russell and featured a star-studded cast, including the band members themselves (most notably, lead singer Roger Daltrey plays the title role).
Ann-Margret received a Golden Globe Award for her performance, and was also nominated for the Academy Award for Best Actress. Pete Townshend was also nominated for an Oscar for his work in scoring and adapting the music for the film. The film was shown at the 1975 Cannes Film Festival, but was not entered into the main competition.
Parodies

 WARNING: You may add parodies. But, do NOT delete any. Complete parodies list
Ad blocker interference detected!
Wikia is a free-to-use site that makes money from advertising. We have a modified experience for viewers using ad blockers

Wikia is not accessible if you've made further modifications. Remove the custom ad blocker rule(s) and the page will load as expected.