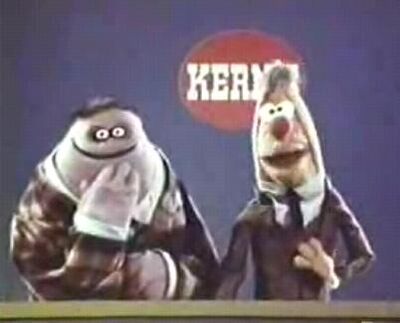 Tommy and Fred appeared in Ads for Kern's Bakery from since 1966. In each Commercial, Tommy tries to convince Fred to eat the Bread, but Fred always declined the offers and was immediately punished for it.
Both Puppets had been used in the succesfull TV show Tales of the Tinkerdee in 1962. The Puppet used for Fred was also used for the Prime Minister and Tommy is the same Puppet as Taminella Grinderall. The Puppet used for Fred was also used for the Mad Scientist in the Shrinkenstein industrial for Pak-Nit. Also, both Puppets would now be reused as D.B. Sweeney's Characters Mynn and Jynn Wason.
Tommy and Fred were previously performed by Jim Henson, but when they were renamed "Mynn and Jynn Wason", they are currently performed by Steve Whitmire (Tommy) and Eric Jacobson (Fred).
Ad blocker interference detected!
Wikia is a free-to-use site that makes money from advertising. We have a modified experience for viewers using ad blockers

Wikia is not accessible if you've made further modifications. Remove the custom ad blocker rule(s) and the page will load as expected.