List of Toon Disney Shows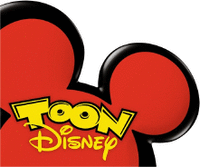 Disney Shows
101 Dalmatians: The Series
Adventures of the Gummi Bears
Aladdin
American Dragon Jake Long
Brandy & Mr. Whiskers
Bonkers
The Buzz on Maggie
Buzz Lightyear of Star Command
Cars Toon
Chip n Dale Rescure Rangers
Dave the Barbarina
Darkwing Duck
Disney's Doug
DuckTales
The Emporer's New School
Fillmore!
Gargoyles
Goof Troop
Hercules The Animated Series
House Of Mouse
Jungle Cubs
Kim Possible
The Legend of Tarzan
Lilo And Stitch: The Series
Llody In Space
The Little Mermaid
Mighty Ducks
The New Adventures of Winnie The Pooh
Pepper Ann
Phineas And Ferb
The Proud Family
Quack Pack
Raw Toonage
Recess
Teacher's Pet
Teamo Supremo
The Replacements
Shnookums and Meat
The Suite Life of Zack and Cody
TaleSpin
The Weekenders
Timon and Pumbaa
Jim Henson Televison Shows
Muppet Babies
The Wubbublous World of Dr. Suess
DIC Entertainment Shows
Adventures of Sonic the Hedgehog
Bump in the Night
The New Ariches
Sabrina The Animated Series
Sabrina's Secret Life
Super Dave Daredevil For Hire
Wish Kid
Cartoon Network Studios
Camp Lazlo
Foster's Home For Imarignary Friends
Hi Hi Puffy AmiYumi
The Life and Times Of Juniper Lee
Non-Disney Shows
All Dogs Go to Heaven: The Series
Baby Looney Tunes
Beetlejuice
Big Bad Beetleborgs
Blazing Dragons
Bugs 'N Daffy
Care Bears
Casper (1996)
CatDog
Code Lyoko
Duck Dodgers
Duckman
Gadget Boy
Garfield and Friends
Gerald McBoing-Boing
Hong Kong Phooey
Johnny Test
Krypto The Superdog
Looney Tunes on Toon Disney
Martain Mystery
The Mr. Men Show (2006)
My Dad the Rock Star
The New Woody Woodpecker Show (1999)
Pinky and the Brain
Ren & Stimpy
Sitting Ducks
Teen Titans
The Baby Huey Show
The Sylvester & Tweety Mysteries
The Wacky World of Tex Avery
Tom & Jerry Tales
ToonHeads
Toonsylvania (1998)
What's With Andy
What a Cartoon!
Yakkity Yak
Gallery
Parodies
Parodies

 WARNING: You may add parodies. But, do NOT delete any. Complete parodies list
Ad blocker interference detected!
Wikia is a free-to-use site that makes money from advertising. We have a modified experience for viewers using ad blockers

Wikia is not accessible if you've made further modifications. Remove the custom ad blocker rule(s) and the page will load as expected.