Toonsville Road Rage
is a Fan Fiction videogame which is a parody of The Simpsons Road Rage and Crazy Taxi.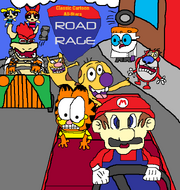 Story
Bowser Koopa has bought all transit systems in Toonsville and have begun to overcharge everyone for the transportation services. All the People of Toonsville (Including Mario and Talking Tom) must earn money by driving cars around Toonsville in order to regain control of the transit systems. To earn money, players must drive around a vehicle for a given amount of time, picking up passengers and taking them to their destinations. They must avoid certain hurdles, such as other vehicles that spin out of control, rocks, flying street objects, Bowser's Car (from Super Mario 3D World), Koopa transit buses, and houses on difficult curves.
Playable Characters
Mario
Luigi
Talking Tom
Talking Angela
Garfield
Stimpy
Ickis
Rocko
Dexter
The Powerpuff Girls (Blossom, Bubbles and Buttercup together)
Sonic the Hedgehog
Augustin
Jon Arbuckle (Unlockable)
Arlene (Unlockable)
Yin and Yang (Unlockable)
Talking Ben (Unlockable)
Talking Ginger (Unlockable)
Ren (unlockable)
Miles "Tails" Prower (Unlockable)
Amy Rose (Unlockable)
Blaze the Cat (Unlockable)
Dee Dee (Unlockable)
Heffer Wolfe (Unlockable)
Oblina (Unlockable)
Dangermouse (Unlockable)
Count Duckula (unlockable)
Inspector Gadget (Unlockable)
Chiro (Unlockable)
Gordon, Mr. Blik and Waffle (Unlockable)
Alvin & the Chipmunks (Alvin, Simon and Thedore together) (Unlockable)
Catdog (Unlockable)
The Ghostbusters (Peter Venkman, Egon Spengler, Ray Stantz and Slimer together) (Unlockable)
Fred Flintstone (unlockable)
Barney Rubble (Unlockable)
Professor Utoniom (Unlockable)
Master Yo (unlockable)
Hovis (with Toonsville Cab Services Car) (unlockalble)
Brandy Harrington (unlockable)
Mr. Whiskers (Unlocklable)
Passengers can be only be picked up by Playable Characters
Odie
Nermal
Dr. Liz Wilson
Princess Peach
Rosalina
Blue Toad
Yellow Toad
Captain Toad
Krumm
The Gromble
Wilbur Cobb
George Liquor American
Filburt Shellbach
Ed Bighead
Bev Bighead
Dr. Hutchinson
Penfold
Nanny
Igor
Penny
Human Kimberly
Katilda
Lina
George Liquor
Silver the Hedgehog
Cream the Rabbit
Lee Lee
Mee Mee
President Muffin
Knuckles the Echinda
Wilma Flintstone
Betty Rubble
Antauri
Sparx
Nova
Otto
Gibson
Jinmay
Officer Dibble
Janine Melnitz
Ms. Pac-Man
Princess Sally Acorn
Billy Bear
Randy Rabbit
Walter
Bonita
Brain
Chief Quimby
David Seville
Marvel
Larry
Pyjama Twin #1
Pyjama Twin #2
Burger Boy
Tiffany
Non-Playable and non-Passengers
Koopa Troopa
Johnny Test
Leon and Chuck
Mr. Horse
Coop
The Crow Brothers
Gladys Hippo
Binky the Clown
Orson Pig
Roy Rooster
Wade Duck
Bo Sheep
Lanolin the Sheep
Booker
Locations
Shady Grove
Entertainment Neighbourhood
Acorn Plains (Unlockable)
Garden Parkway (Unlockable)
Townsville (Unlockable)
Green Hill Zone(Unlockable)
Jungle Park (Unlockable)
Majestic Movie Studios (Unlockable)
Castle Duckula (Unlockable)
The Mushroom Kingdom (Unlockable)
Missions
The Powerpuff Girls Rules
Mario on the Run
Chiro's Mission
Duckula's Driving Test
Jon's Day off
Save the Lab car
Take a Scare
Garfield's Escape
Heffer's Big Day
Don't get a Revenge
Stimpy's Fine Day
Speedy Hedgehog car
Go Go Gadget Car
Run Tom, Run
Koopa Arena
Ad blocker interference detected!
Wikia is a free-to-use site that makes money from advertising. We have a modified experience for viewers using ad blockers

Wikia is not accessible if you've made further modifications. Remove the custom ad blocker rule(s) and the page will load as expected.