Toot the Tiny Tugboat
is a children's TV series which airs on
Cartoonito
&
Channel 5
.
NOT TO BE CONFUSED WITH THE SONG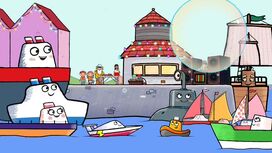 Characters
Toot -  A Yellow Orange & Gray Helpful Tugboat Who Can Get Into Trouble Sometimes
Paula - A Green And White Trawler Who Is Adorable And A Best Friend Of Toot
Sasha - A Black Submarine Who Is Scared Of Monsters She Has 3 Eyes
Blue Claw - A Blue Crab Who Is Very Devious And Villainous
Marge - A Purple And Orange Barge/Slender Boat Who Is Best Friends With Wayne
Pop - A Red & Gray Ocean Liner
Gus - A Seagull Who Works For Blue Claw
Bethan - Caleb's Twin
Caleb - Bethan's Twin
Hattie - A Cheeky Hovercraft Who Loves Playing pranks
Bryan - A Blue & White Ferry Who Can Be Grumpy Atimes
Rover - A Gray Cat
Harbour Master - The Harbour Master
H.P. - A Red & White Speedboat
Ol' Graham - A Brown Galleon
Parodies
Toot the Tiny Tugboat/Dream Street
Gallery
Watch Video
Ad blocker interference detected!
Wikia is a free-to-use site that makes money from advertising. We have a modified experience for viewers using ad blockers

Wikia is not accessible if you've made further modifications. Remove the custom ad blocker rule(s) and the page will load as expected.