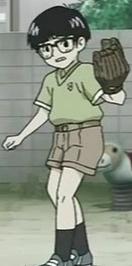 Toshiya Sato is Goro's best friends during childhood and longtime rival through baseball in the Major series.
Counterparts
Duck (Thomas the Tank Engine and Friends)
Grampus (TUGS)
Ferb Fletcher (Phineas and Ferb)
Darwin Watterson (The Amazing World of Gumball)
Patrick Star or Monroe (SpongeBob SquarePants)
Buster Baxter (Arthur)
Max (Pokemon)
Nobita Nobi (Doraemon)
Rigby (Regular Show)
Chuckie Finster (Rugrats)
Harold (Total Drama)
Ad blocker interference detected!
Wikia is a free-to-use site that makes money from advertising. We have a modified experience for viewers using ad blockers

Wikia is not accessible if you've made further modifications. Remove the custom ad blocker rule(s) and the page will load as expected.