See also:
wikipedia:Total Drama: Revenge of the Island
Total Drama Revenge Island at Wikia
---
[
]
Welcome to the Total Drama Revenge Island mini wiki at Scratchpad!
You can use the box below to create new pages for this mini-wiki.

 This article is about the fourth season only. For the entire series, see
Total Drama
.
'

The Total Drama: Revenge of the Island logo.
Starring

Kevin Duhaney
James Wallis
Carleigh Beverly
Ashley Peters

Country of origin
Canada
No. of episodes
13[1]
Release
Original channel
Teletoon
Original release
January 5, 2012[2][3]
 – April 12, 2012
Total Drama: Revenge of the Island (TDRI for short) is the fourth season of the Total Drama franchise. The series' extension was commissioned by Teletoon from the producers, Fresh TV Inc. It is a sequel to Total Drama Island, Total Drama Action, and Total Drama World Tour and is a parody of reality TV shows, with this series taking the contestants back to Camp Wawanakwa (the original setting of the first season), only this time the island is radioactive. Previous contestants from past seasons no longer compete in Total Drama: Revenge of the Island since this season features an entirely new cast. The thirteen new contestants who are introduced are Anne Maria, B, Brick, Cameron, Dakota, Dawn, Jo, Lightning, Mike, Sam, Scott, Staci, and Zoey.[4] This new season has new friendships, new rivalries, new relationships, and the biggest drama to date. However, the season is only half the length of previous seasons, with just 13 episodes.[1] The purpose for this season is not just to start all over again, but to introduce the new cast to what the older contestants have gone through before and to get them ready for Total Drama All-Stars. Such a change also occurred again in Total Drama: Pahkitew Island.
Characters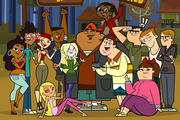 Unlike previous seasons, Total Drama: Revenge of the Island features a new set of contestants, which are Anne Maria, B, Brick, Cameron, Dakota, Dawn, Jo, Lightning, Mike, Sam, Scott, Staci, and Zoey.[4] All of the new contestants have their own audition tapes for the new season. They can be seen online on Teletoon's official website, online on Cartoon Network's official website, or on YouTube.[5]
Main characters
Cameron, known as the Wide-eyed Bubble Boy,[6] is the main geek of the show. Because he had an "overprotective" mother, he spent all his life in an inflatable bubble and he was also home-schooled. It's because of this that he is shown to be very weak, short and looks a lot younger than his actual age. However, what he lacks in strength he is able to make up for with brains and he is shown to be extremely smart which helped his team win many challenges. As the season progressed Cameron became a much more physical player which greatly helped him all the way to the final where he faced off against Lightning in a fight dubbed "Brains vs. Brawn". Although Lightning was the more powerful of the two, Cameron with his intelligence was able to construct a metal suit (similar to that of Iron Man). He wins in the original ending and since he was able to survive without his bubble, he decides he doesn't need it to be inflated (since Cameron's mum said he needed the money to inflate his bubble with the money) and decides to share it with everyone else. In the alternate ending, although he doesn't win he decides he doesn't need the bubble anymore. He was voiced by Kevin Duhaney.
Lightning, known as the Athletic Overachiever,[6] is strong and athletic, while being an over-achiever who says that he always wins and never loses. However, Lightning is very arrogant and doesn't want to help his team. Also, Lightning loves to talk about himself. Lightning always loves saying "-sha" in mostly every word he says. Despite his athletic prowess, he isn't very intelligent and even believes that Jo is a boy since she is the only one who can really keep up with him. His competitive drive causes him to get to the end of the season and almost win until Cameron ultimately edges him out in the end. His jersey is similar to the jerseys issued to the San Diego Chargers. However, in the alternate ending, he wins and says he's going to use the money to buy his own stadium to train in, though he has to heal from a broken leg first. He also ends up with white hair. He was voiced by Tyrone Savage.
Other characters
Teams
There are two teams again in this season, which are the Toxic Rats and the Mutant Maggots. Here are the original members for each team as of Episode 1:
Toxic Rats: B, Dakota, Dawn, Lightning, Sam, Scott, and Staci.
Mutant Maggots: Anne Maria, Brick, Cameron, Jo, Mike, and Zoey.
Note that at the start of the season, Brick was on the Mutant Maggots but then switched to the Toxic Rats in Episode 4, while in Episode 6 Jo and Scott volunteered to swap teams with one another, and in Episode 7 Dakota was brought back to replace Anne Maria (who quit) and placed on the Maggots.
Original concepts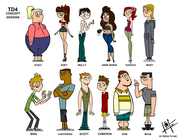 In the early production stages, the character lineup had twelve contestants, and most of them had body shapes, colors, clothing, height, hair style and faces that were completely different from the final designs. The thirteenth character who was added later was Jo. His design was similar to that of the character used in the Total Drama Island special as the man in the car when Courtney "discovered" civilization. That character also happened to be DJ's prototype from the original Camp T.V. promos.[7] Jo was later renamed to B (which stands for Beverly) while also getting his final redesign. The only other character to have their name changed was Mary; who ended up using the name 'Jo'. Despite the rename, Jo is the character to undergo the least amount of change in design. Brick, Scott, Anne Maria and Lightning had minor modifications made to their outfits. Sam had different facial hair. The characters who had the most changes made to their designs were Dakota and Zoey. Mike and Cameron had their ethnicities changed. Dawn, who was not in the original lineup, replaced an unused character named 'Molly'.[3]
Cameos
Although the original contestants did not compete again in this season (according to Chris, they had outlived their usefulness), nine of them still had cameo appearances throughout the season:[8] Bridgette, DJ, Duncan, Ezekiel, Gwen, Heather, Izzy, Lindsay, and Owen. However, at the beginning of the season, all of the original contestants (except for Blaineley) were seen together on a yacht, revealing their status after Total Drama World Tour. They were all last seen (except for the nine who cameo) leaving on the yacht right before the new contestants were first introduced.
A list of all the cameos in Total Drama: Revenge of the Island and their roles during their cameos are shown below:
List of cameo appearances 
| Episode | Character | Role |
| --- | --- | --- |
| 1 | Owen[9] | Asked Chris why the boat with the original contestants was leaving, but then Chris blew him away with a bomb. |
| 4 | Izzy[9] | Disguised as a gigantic mutated spider to terrorize and capture the contestants during the challenge. Also, captures Chef at the end. |
| 5 | Bridgette[9] | Used to help Chris chum the water and test the challenge along with Dakota. |
| 6 | Lindsay[9] | Used as a judge at a fashion model contest and also used as a hostage against Sasquatchanakwa during a challenge to rescue her. |
| 7 | Ezekiel | Found underground in the mine by Anne Maria as the leader over giant mutated gophers. |
| 8 | Gwen[9] | Was found buried underground along with Sam as a damsel for the contestants to rescue in a challenge. |
| 9 | Duncan[9] | Used as challenge demonstrator, but escaped and later returned to blow up Mt. Chrismore. |
| 10 | Heather[9] | Used as a test dummy to fly through rings of fire, but later steals the million dollar case and attempts to flee away. |
| 11 | DJ[9] | A food eater and a judge for the cooking challenge, but later runs away in fear. |
| 12 | Ezekiel | Found trying to get out of the mine he was stuck in, but then pushed back down by Lightning. |
| 13 | Ezekiel | Used as one of the mutant creatures who were released to interfere with the final challenge. |
The fifteen original contestants who no longer appeared after the first episode of the fourth season were Alejandro, Beth, Cody, Courtney, Eva, Geoff, Harold, Justin, Katie, Leshawna, Noah, Sadie, Sierra, Trent, and Tyler. Harold was thought to have a cameo as soon as Brian Froud was confirmed to be part of the cast, but it turned out that Brian voices Sam instead. Out of all the cameos, Ezekiel is the only original contestant who made cameos in more than one episode in the season (he appeared in three episodes), while DJ is the only cameoing character who has the same voice actor as a main character (Chef) already with a major role.
Parodies

 WARNING: You may add parodies. But, do NOT delete any. Complete parodies list
Notes
See also
Ad blocker interference detected!
Wikia is a free-to-use site that makes money from advertising. We have a modified experience for viewers using ad blockers

Wikia is not accessible if you've made further modifications. Remove the custom ad blocker rule(s) and the page will load as expected.