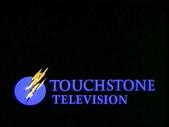 Touchstone Television is the television production which was started by then new Disney CEO Michael Eisner in the 1984–85 television season with the short lived western, The Wildside. The next TV season, Touchstone produced a hit with The Golden Girls.
Walt Disney Television and Touchstone Television were grouped together under Garth Ancier as president of network television for Walt Disney Studios on April 18, 1989. In 1992, Touchstone moved into producing longer forms for TV focusing on more adult fare with its first telefilm being for CBS about Edna Buchanan, a Miami Herald crime reporter who would win a Pulitzer Prize.
On August 24, 1994, with Jeffrey Katzenberg's resignation, Richard Frank became head of Walt Disney Television and Telecommunications, a new Disney group taking Touchstone and other TV units out of Disney Studios.
In April 1996, due to ongoing post Disney-CC/ABC merger realignment and retirement of its president, Disney Television and Telecommunications Group's divisions were reassigned to other groups with Touchstone Television transferred to The Walt Disney Studios. While two of their pilots were in consideration for pick up on ABC in April 2003, Tollin/Robbins Productions agreed to a two-year development deal, which included a two-year option, profit sharing and outside sales, with Touchstone Television.