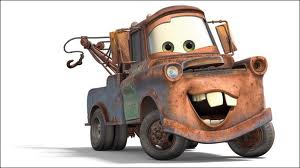 Tow Mater
(better known by just his surname,
Mater
and also known as
Sir Tow Mater
; born in Radiator Springs on January 12, 1957) is the deuteragonist of
Cars
and the main protagonist in its sequel, Cars 2. In the 2006 film, he befriends McQueen and he's the first person to be introduced to McQueen, goes tractor tipping and scares sleeping tractors at night, pulls scary yet harmless pranks on his friends and he's the greatest backwards driver. In the
the sequel
, he has a huge romantic, unconditional love/crush on Holley Shiftwell, a beautiful purple spy car. He also gets mistaken for an American spy with a brilliant idiotic cover: disguised as an idiotic tow truck.
Bio
Born: 12th January 1957 (age 61)
Allies: Lightning McQueen (best friend), Finn McMissile, Holley Shiftwell (best friend and significant other), Sally, Doc Hudson, Red, Lizzie, Stanley, Flo, Ramone, Sheriff, Mack, Siddley, Luigi, Guido, Fillmore, Sarge, Stephenson, The King
Enemies: Chick Hicks, Bubba (orange tow truck that bullies him), Frank, Miles Axlerod, Professor Z, Acer, Grem, Ivan, Fred Pacer, lemons, Boost, DJ, Wingo, Snot Rod
Fate: Flies in a Dinoco Helicopter (Cars), Races with Lightning McQueen (Cars 2)
Likes: Tractor Tipping, Befriends with Lightning McQueen, driving backwards, Holley Shiftwell, his gadget "Gotta get away from McQueen" being married to Holley Shiftwel now and forever more because he loves her unconditionally and she loves him unconditionally
Dislikes: Professor Zundapp, lemons, begin a fool, what his enemies do to him, yelling things, ghostlights and monsters, being bullied and abused, swimming and getting wet
Life
Mater was born on 12th January 1957 (same birth as John Lasseter) and has lived in Radiator Springs his whole life, he was blue and new until the late years of the 19th Century and lost most of his blue paint (although some of his blue paint is still visible to this day) and hood and gained orangeish red brown/cinnamon paint, his best friends are Holley Shiftwell and Lightning McQueen and his hobbies are helping out stranded cars, hanging out with his friends/family in Radiator Springs and Tractor Tipping which he tips the tractors late at night with his loud horn.
Knighted
Mater was knighted by The Queen of England herself on the 15th of July, 2011 for his bravery and also for stopping and outsmarting the villain (Miles Axlerod)'s plans and was nicknamed; Sir Tow Mater.
Counterparts (Cars version)

 WARNING: You may add appropriate counterparts. But, do NOT delete any.
Counterparts (Mater's Adventure version)

 WARNING: You may add appropriate counterparts. But, do NOT delete any.
Counterparts (Disney Infinity version)

 WARNING: You may add appropriate counterparts. But, do NOT delete any.
Parodies

 WARNING: You may add parodies. But, do NOT delete any. Complete parodies list
Gallery
See also