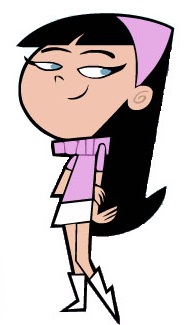 Trixie Tang is the Girl Character from The Fairly OddParents. She is voiced by Dionne Quan.
Bio
Gender: Female
Species: Human
Age: 10
Hair color: Black
Eye color: Blue
Family: Mr. Tang (Father)
Friends: Timmy Turner (Boyfriend), A.J., Chester,  Veronica
Counterparts (The Fairly OddParents Version) (Female Version) (DO NOT EDIT!!!)
Counterparts (Male Version) (DO NOT EDIT!!!)
Gallery
Ad blocker interference detected!
Wikia is a free-to-use site that makes money from advertising. We have a modified experience for viewers using ad blockers

Wikia is not accessible if you've made further modifications. Remove the custom ad blocker rule(s) and the page will load as expected.