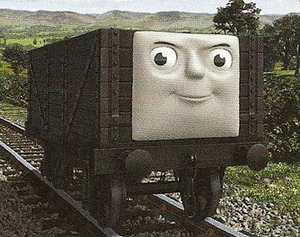 The Troublesome Trucks are the silly, noisy rolling stock found on any of Sodor's railways. They delight in mischief, and will play tricks on an engine who is not used to them. They are voiced by Keith Wickham, Ben Small, Matt Wilkinson, Bob Golding and Rupert Degas in the UK and Kerry Shale, Glenn Wrage and William Hope in the US. They do not speak in Thomas' Day Off and He cameoed in Steamie Sodor Calm Down Caitlin and Not Now, Charlie!
Theme
The Troublesome Trucks' theme is the song, Troublesome Trucks. Sometimes is their Season 1 Runaway Theme 
Theme (T,J&H Version)
The Troublesome Trucks' T,J&H theme is their Season 1 theme
Voices
Counterparts (Villain Version)
Cabot's Cargo - Theodore Tugboat
Hopper Wagons - Chuggington
Kritters and Klaptraps - Donkey Kong Country
Alligators - Wacky Races
Worms - Garfield and Friends
Perfecto Prep Alumni - Tiny Toon Adventures
Space-Probed Aliens - Animaniacs
Additional Peas - Veggietales
The Caotiliens & Evil que Poora Henchmen - WarioWare (T,J&H Version), The Trucks & Caotiliens are all Troublesome
Killer Boy Rats - Horrid Henry
Jellyfishes - SpongeBob SquarePants
Circus Monkeys - Rugrats
Scribbles - Foster's Home for Imaginary Friends
Changelings - My Little Pony: Friendship is Magic
Foosas - Madagascar
Crunchers or Matoraneator - Vehicles
Motor Dodos or Flenters - Cararise Aurely's Adventures
Mr Burns' Dogs - The Simpsons
Minions - Train Tishka
Toy Soldiers - Toy Story 1, 2, & 3
Tractors and Lemons - Cars 1 & 2
Beedrill, Spearow, Unown, and Zubat - Pokemon
The Underpants Gnomes - South Park
Dementors - Harry Potter
Doom Imps, Shotgun Guy and Zombieman - Doom
Pig Cops - Duke Nukem
Robo-Pirates, Raving Rabbids, and Lividstones - Rayman
Oodlegobs - Nitrome
Skeletons - Golden Axe
Bees - Winnie the Pooh
Gremlins - American Dragons
The Gogans - Pete's Dragon
Sky Pirates - Talespin
Bakemon - Digimon
Imperial Officers, Stormtroopers, Battle Droids, Nemoidians, and Genosians -Star Wars
Hornets - Maya the Bee Movie
Galsia, Soozie, and Garcia - Streets of Rage
The Aliens - Bobby's World
Counterparts (Hero Version)
Coaches - Thomas the Tank Engine and Friends
Parodies
Gallery
Ad blocker interference detected!
Wikia is a free-to-use site that makes money from advertising. We have a modified experience for viewers using ad blockers

Wikia is not accessible if you've made further modifications. Remove the custom ad blocker rule(s) and the page will load as expected.