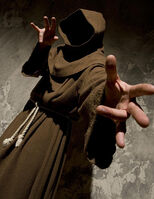 Trzej Wielcy Mnisi Tlena (ang. The Three Great Oxygen Monks) - niejako ojcowie Kościoła Oświecenia Tlenowego, główni przywódcy duchowi ludu wyznającego kult Tlena. Objawiają się w różnych formach i postaciach. Wiadomo, że są współistotni w swej mocy i sile z Wszechmogącym Tlenem. Prócz prowadzenia ludu ich głównym zadaniem jest nauka poprzez misje na całym świecie. Często widywani w okolicach Ciechocinka, gdzie miejsce mają wszelakie manifestacje złych mocy Gadu-Gadu. Obrońcy uciśnionych, sprawiedliwi sędziowie, mędrcy Mocy. Znani ze swoich działań dążących do globalnego oświecenia i całkowitego zneutralizowania Gadu-Gadu w imię Tlena.
Członkowie
Mroczny Mnich Odkupienia
Jeden z dwóch głównych Mnichów, założycieli Kościoła Oświecenia Tlenowego. Mnich mroczny i tajemniczy. Nie zbadana jest bliżej jego natura. Określany jako "Ten, który sprawuje odkupienie"
Świetlisty Mnich Oświecenia
Mnich współzałożyciel. Odpowiedzialny za głoszenie prawdy i krzepienie wiary w ludziach. Zwany "Tym, którego blask promieniuje wśród narodów". On to oświeca prawdą niewiernych i pogan wyznających kult Gadu-Gadu.
Tajemniczy Mnich Zagłady
Trzeci, aczkolwiek nie najmniej ważny z mnichów. On to dołączył do Założycieli według przepowiedni Noster Adamusa. Postać tajemnicza i równie mroczna jak pierwszy z Mnichów. Odpowiada za ład i porządek panujący wśród wyznawców. On także ma stanąć po prawicy Tlena gdy ten stoczy ostateczną walkę z wcieleniem zła.
Ad blocker interference detected!
Wikia is a free-to-use site that makes money from advertising. We have a modified experience for viewers using ad blockers

Wikia is not accessible if you've made further modifications. Remove the custom ad blocker rule(s) and the page will load as expected.