TurnLeaf
Talk

10
133,363pages on
this wiki
Welcome to the TurnLeaf mini wiki at The Wikia Scratchpad!
You can use the box below to create new pages on this wiki. Make sure you type [[Category:TurnLeaf]] on the page before you save it to make it part of the TurnLeaf wiki (preload can be enabled to automate this task, by click this link and save that page. After enabled, you should purge this page, if you still see this message).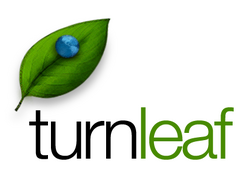 We have an opportunity to improve the quality of our world for future generations. We can make choices about where we work and how we work that can have an enormous impact on our environment. With that said, we need to work together to establish and maintain standards that others can apply to conduct their businesses in a more environmentally friendly manner.


The goal is to establish and adopt a set of community-created standards that non-manufacturing businesses can use as a guideline to reduce negative environmental impact. Logos will be available for download and display, indicating support on the
TurnLeaf Standards
page.



The TurnLeaf EcoAware, EcoFriendly or EcoChampion logos must link to our
TurnLeaf Standards
page to encourage others to adopt or challenge our standards. The honor system will be applied, if you think your company meets the standards, then display the logo. Let your conscience hold you accountable! (
An example from Green-E.org
)
If you can't participate, please find someone who can and send them this URL: http://scratchpad.wikia.com/wiki/TurnLeaf.
---
View the new TurnLeaf Standards for non-manufacturing office compliance.

Top Level Standards Categories:


Are we missing a top level category? As an example, does the environment extend beyond the physical into the mental - should there be a standard for reducing work-related stress? What about "Green" awareness - using the work environment to challenge people to take action at home?
---

Resources:

---

Things To Do:


Translate pages into other languages

Send the TurnLeaf Wiki URL to 10 people