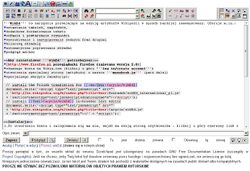 WikEd
to narzędzie pozwalające na edycję artykułów Wikipedii w sposób bardziej zaawansowany. Oferuje m.in.:
wstawianie tabelek
dodatkowe formatowanie tekstu
cofanie i powtarzanie czynności
wyszukiwanie i zastępowanie jednych fraz drugimi
kolorową składnię
automatyczne poprawianie składni
podgląd ad-hoc
sprawdzanie pisowni i gramatyki (przy korzystaniu z Firefoxa)
Aby zainstalować wikEd potrzebujesz:
własnego konta na Wikia.com (kliknij u góry log in/create account)
utworzenia specjalnej strony (artykułu) o nazwie monobook.js (patrz dalej)
specjalnego skryptu JavaScript:
// install the Polish translation for en:User:Cacycle/wikEd
document.write('<script type="text/javascript" src="'
+ 'http://en.wikipedia.org/w/index.php?title=User:Konradek/wikEd_international_pl.js'
+ '&action=raw&ctype=text/javascript&dontcountme=s"></script>');
// install User:Cacycle/wikEd in-browser text editor
document.write('<script type="text/javascript" src="'
+ 'http://en.wikipedia.org/w/index.php?title=User:Cacycle/wikEd.js'
+ '&action=raw&ctype=text/javascript"></' + 'script>'); 

Instalacja
1.Po utworzeniu konta i zalogowania się na nie, wejdź na swoją stronę użytkownika - kliknij u góry czerwony link z nazwą twojego konta.
2.Otworzy się standardowe okienko edycji artykułu. Możesz tam wpisać co chcesz, to w końcu twoja stronka :) umieść tam link takiej postaci:

[[User:TWOJA NAZWA/monobook.js]]

gdzie TWOJA NAZWA to oczywiście nazwa twojego konta, np. [[User:Piotr mil/monobook.js]]
3. Zapisz swoją stronę użytkownika i wejdź na /monobook.js utworzonym przed chwilą linkiem. Analogicznie, otworzy się standardowe pole edycji artykułu.
4. Skopiuj i wklej poniższy skrypt do okna artykułu i zapisz go.
// install the Polish translation for en:User:Cacycle/wikEd
document.write('<script type="text/javascript" src="'
+ 'http://en.wikipedia.org/w/index.php?title=User:Konradek/wikEd_international_pl.js'
+ '&action=raw&ctype=text/javascript&dontcountme=s"></script>');
// install User:Cacycle/wikEd in-browser text editor
document.write('<script type="text/javascript" src="'
+ 'http://en.wikipedia.org/w/index.php?title=User:Cacycle/wikEd.js'
+ '&action=raw&ctype=text/javascript"></' + 'script>'); 

zobacz jak powinna wyglądać strona /monobook.js
5. Teraz, jeśli używasz Firefoxa kliknij CTRL + R, aby przeładować cache, bądź po prostu zamknij i włącz ponownie Firefoxa.
6.Odtąd, po zalogowaniu na swoje konto, u góry powinna widnieć dodatkowa ikonka:


7.Od tej chwili, po kliknięciu na "Edytuj", będziesz mógł korzystać z nowego, lepszego systemu edycji artykułów.
Pytania
WikEd nie chce się włączyć, dlaczego?

Powodów może być kilka: możesz mieć złą przeglądarkę - wikEd nie działa (na razie) z Operą ani z IE. Zostaje FireFox. Po drugie, wikEd może nie być włączony. Jeżeli ikonka jest szara, wystarczy na nią kliknąć, by włączyć wikEd
Czy rejestracja i wikEd są darmowe?

Tak samo jak Wikipedia, bycie Wikipedystą nic nie kosztuje. Skrypty wikEd są rozpowszechniane na zasadzie OpenLicence
Edytuję artykuł korzystając z wikEd. Po kliknięciu na "Zapisz" lub "Podgląd" wyświetla się strona z błędem (error)

Tak się czasami dzieje. Wystarczy kliknąć "wstecz" w przeglądarce i ponownie nacisnąć przycisk, który chciało się wcisnąć.
Co to jest monobook.js?

Monobook to nazwa domyślnej "skórki" - wyglądu Wikipedii. Jest wiele innych skórek (patrz Moje preferencje - dostępne po zalogowaniu się ).
Natomiast Monobook.js to nazwa skryptu Java Script zmieniającego wygląd Wikipedii (w tym też stylu edytowania artykułów). Uwaga: Jeżeli w Moich preferencjach wybrało się inną skórkę, np. Classic, Wow itp. należy utowrzyć analogiczny skrypt .js, np. NAZWA UŻYTKOWNIKA/Classic.js
Ad blocker interference detected!
Wikia is a free-to-use site that makes money from advertising. We have a modified experience for viewers using ad blockers

Wikia is not accessible if you've made further modifications. Remove the custom ad blocker rule(s) and the page will load as expected.