Tutter
is a small blue mouse from
Bear in the Big Blue House
.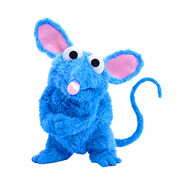 Counterparts
Percy (Thomas the Tank Engine and Friends)
Sunshine (TUGS)
Claude or Boomer (Salty's Lighthouse)
Hank (Theodore Tugboat)
Bo (Garfield and Friends)
Elmo or Snuffy (Sesame Street)
Bottles the Mole (Banjo-Kazooie)
Max (Max & Ruby)
The Fox (Mary Pooppins)
James (Fireman Sam)
Tails (Sonic the Hedgehog)
Piplup, Turtwig, Squirtle, or Pikachu (Pokemon)
Tuff (Kirby)
Kevin (3-2-1 Penguins)
Goody-Goody Gordon (Horrid Henry)
Toad or Bowser Junior (SuperMarioLogan)
Ziggy (Lazytown)
Private Meekly (Wacky Races)
Diddy Kong (Donkey Kong Country)
Patrick Star (SpongeBob SquarePants)
Bart Simpson, Ralph Wiggum, Lenny Leonard, or Milhouse Van Houten (The Simpsons)
Kyle Broflovski, Kenny McCormick, or Butters Stotch (South Park)
Chris Griffin, Neil Goldman, or Peter Griffin (Family Guy)
Chuckie Finster (Rugrats)
Hamton J. Pig (Tiny Toon Adventures)
Tweety Bird (Looney Tunes)
Wakko Warner (Animaniacs)
Nibbles/Tuffy (Tom and Jerry)
Lampy (The Brave Little Toaster)
Skippy (Robin Hood)
Pinocchio (Pinocchio)
Digit (Cyberchase)
Ad blocker interference detected!
Wikia is a free-to-use site that makes money from advertising. We have a modified experience for viewers using ad blockers

Wikia is not accessible if you've made further modifications. Remove the custom ad blocker rule(s) and the page will load as expected.