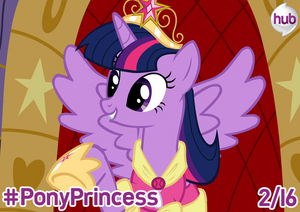 Twilight Sparkle
is the main protagonist of
My Little Pony: Friendship is Magic
. She is voiced by
Tara Strong
.
Counterparts (girl version)

 WARNING: You may add appropriate counterparts. But, do NOT delete any.
Counterparts (boy version)

 WARNING: You may add appropriate counterparts. But, do NOT delete any.
Thomas, Edward, Henry, James or Toby (Thomas and Friends)
Ten Cents, Hercules, Warrior or OJ/Otis (TUGS/Salty's Lighthouse)
Theodore, Truro, Inverness, or Digby (Theodore Tugboat)
Wilson, Hodge, Chatsworth, or Old Puffer Pete (Chuggington)
Tails or Charmy Bee (Sonic The Hedgehog) (Twilight Sparkle And Tails Are Best Friends With Sonic And Rainbow Dash Twilight Sparkle Can Fly)
Stan Marsh (South Park)
Berry The Ice Monster (Fanboy and Chum Chum)
Bradley (Codename: Kids Next Door)
Noddy (Noddy's Toyland Adventures)
Orson (Garfield and Friends)
Roddy (Flushed Away)
Periwinkle (Blues Clues)
Liquidator (Darkwing Duck)
Pepe Le Pew (Looney Tunes)
Professor Pat Pending (Wacky Races)
Sparkster (Rocket Knight Adventures)
Sebastian the Crab (The Little Mermaid)
Ryan (Zachary Swain)
Noah (Total Drama)(Both Noah and Twilight are Smart)
Hiro Hamada (Big Hero 6) (Hiro and Twilight are both Smart Leaders)
Jason Jenkins (Kong: The Animated Series)
Linus Van Pelt ( The Peanuts Movie)
Mario or Bowser Junior (SuperMarioLogan)
Doc (The 7D)
Ruthless (Game Shakers)
Doc Quackers (Sheriff Callie's Wild West)
Gallery
Ad blocker interference detected!
Wikia is a free-to-use site that makes money from advertising. We have a modified experience for viewers using ad blockers

Wikia is not accessible if you've made further modifications. Remove the custom ad blocker rule(s) and the page will load as expected.