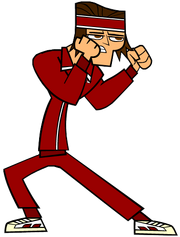 Tyler is a character from Total Drama.
Counterparts(Boy Version)
Duck or Oliver (Thomas the Tank Endige and Friends)
Toad, Luigi or Yoshi (Super Mario Bros.)
Rotor the Walrus, Antoine D'Coolette or Tails the Fox (Sonic the Hedgehog)
Squirtle or Drew (Pokemon)
Fred the Fish (Spongebob Squarepants) 
Mark, AJ or Cosmo (The Fairly OddParents)
Perry the Platypus or Jeremy Johnson (Phineas and Ferb)
Sylvester the Cat or Daffy Duck (Looney Tunes)
Peppy Hare (Star Fox)
Wade Duck (Garfield and Friends)
Turtle (Wreck it Ralph)
Hsi Wu (Jackie Chan Adventures)
Kristoff (Frozen)
Billy Bevel (Rolie Polie Olie)
Scooter Carrot (VeggieTales)
Soarin' (My Little Pony) [Tyler can't be Discord. Discord is too evil to be like Tyler.]
Counterparts(Girl Version)
Toadette, Princess Daisy or Birdo (Super Mario Bros.)
Ad blocker interference detected!
Wikia is a free-to-use site that makes money from advertising. We have a modified experience for viewers using ad blockers

Wikia is not accessible if you've made further modifications. Remove the custom ad blocker rule(s) and the page will load as expected.